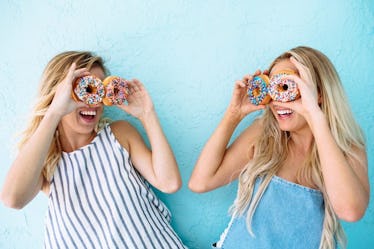 12 Best Tattoo Ideas For The College Roomies Who Double As Best Friends
Sometimes, you go to college, get matched up with a roommate, and it just doesn't work out. But other times, you're a match made in heaven. You feel totally comfortable telling each other off when you're being super messy, and in the next beat, you'll be crying with laughter.
You've made lifelong memories, and you don't know how you got so lucky to be rooming with your best friend. When you can make it as roomies, you know you'll be forever friends. These are the best tattoos to celebrate your college roomie friendship now, and in the many years to come.
1. A Delicate Ankle Design
Like your friendships, your ankles keep you grounded. Get matching tats here to symbolize what you mean to one another. As a major plus, these tattoos looks super cute in the summertime.
2. Water Color-Inspired
Stunning, right? These adorable tattoos are soft and gorgeous. You and your roommate will have these beautiful reminders with you wherever you go.
3. Some Sweet Roses
On the brave side? A few detailed roses make a beautiful piece of artwork to share. You and her may go through some rough patches, but you both know you're always standing by each other in the end.
4. A Few Dainty Plants
How simple and beautiful is this tattoo? You and your roomie can choose the same plant, or go with different ones. Either way, you know what it means.
5. Matching Ear Tattoos
If you want something small but still visible, consider getting one of these. They look beautiful with or without earrings, and act as a perfect accessory. It's also a great way of saying, "This girl over here already has a best friend, thanks very much."
6. Something Hidden
This tattoo may be big, but the placement makes it so that most of the year, no one knows it's even there. It's the perfect tattoo for a roommate duo who needs to keep their tats covered in the future. It doesn't hurt that it's super beautiful, too.
7.  Your Star Signs
Are you both into outer space, astrology, or both? Get your favorite constellation, or even your zodiac signs. The simplicity of this tattoo is unique, just like your friendship.
8. Matching Dinos
These little guys are so fun and cute. If you and your roommate BFF are both kids at heart, these may be the perfect tattoos for you. Pick out your favorite little dinosaur, and give it a go.
9. An Artsy Piece
Are you both travelers? Do you have a list of countries you plan to visit together? Then you'll love these intricate compasses that will evoke instant wanderlust.
10. Tiny Finger Tattoos
Finger tattoos are great because they're small and not easily noticeable. These tattoos are a great match for a perfect manicure. If you and your roomie are trendsetters and love the minimal jewelry look, these could be perfect for you.
11. Something You Love
Are you both cat lovers, a little edgy, and looking for something bad*ss to prove it? This little tattoo says, "Don't mess with us."
12. A Little Something That Means A Lot
The key to something unique? Pick something small that represents something major to the two of you. It'll bond you closer than you already are.