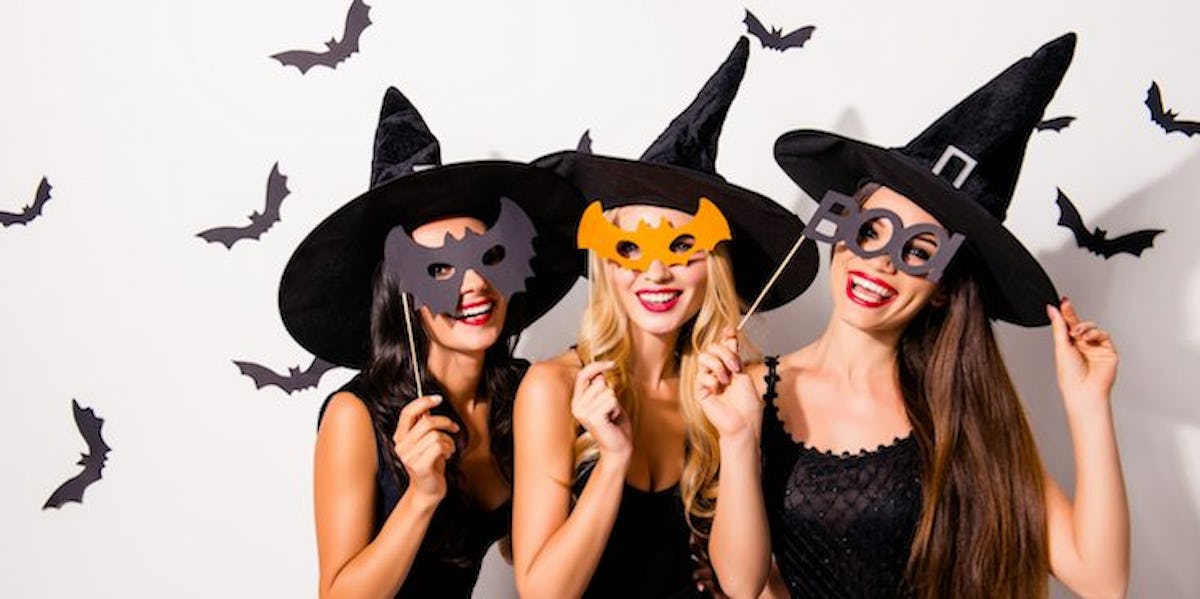 9 Nostalgic Halloween Costume Ideas If You're A Proud Child Of The '90s
Shutterstock
Halloween is fast approaching, friends! But don't worry if you haven't nailed down the perfect costume yet. Millennials kind of have a monopoly over the dress-up pool because we have countless icons to emulate and re-imagine in our own creative way. Obviously IT's Pennywise the Clown and Game of Thrones' Mother of Dragons will be the costumes to beat this year, but nostalgic Halloween costume ideas are timeless, not trendy, and the '90s alone give us a lot to work with.
Take cartoon characters, for example. The '90s brought us pixelated classics like Hey Arnold!, Rugrats, The Wild Thornberrys, Ren and Stimpy, Rocco's Modern Life, and all that good stuff you'd have to beg your parents to let you stay up late and watch. But if you'd rather go tween than child, there's sitcom leads like Clarissa Explains It All, Blossom, Topanga Lawrence, Buffy the Vampire Slayer, and the list goes on.  
Of course, fictional characters are only half the pickings. Pop culture icons like Gwen Stefani, Drew Barrymore, Claire Danes, all the members of Destiny's Child, TLC, and Britney Spears made their mark too, through music, fashion, and the roles they played on and off the big screen.  
I'm partial to creepier characters myself, but whether your go-to costume of choice is mythical, fictional, or a bombshell-blonde vocalist singing about a genie in a bottle, there's something nostalgic for everyone to dress up as this Halloween.
1. Lisa Frank
Lisa Frank designs are what '90s girls' dreams are made of, probably because they're all obnoxiously bursting with vibrant colors and adorable cartoon animals (but I digress).
There are a ton of DIY Lisa Frank Halloween costumes swarming the internet for you to grab inspiration from, or you can splurge on a few of her collectables to rock come Oct. 31 and beyond.
2. Cher Horowitz
According to her BFF Dionne in the classic throwback film Clueless, Cher's main thrill in life is a makeover, and this Beverly Hills "it" girl has us thinking about yellow plaid, fuzzy pink pens, and white feather boas for Halloween.
To master Cher's style, preppy is definitely the way to go, so be sure your costume packs a pop of color, high-knee socks, and throw around an "as if" once in awhile.
3. Winifred Sanderson
It wouldn't be a true '90s Halloween roundup without mentioning this risen witch.
Winifred Sanderson is immortal, and costumes mimicking her 1600s garb get better by the year, so scope out the craziest red wig you can find, layer on the orange eyeshadow, and go thrifting for a green dress you can wear and tear because, let me tell you, sucking the lives out of little children is a hard labor project.
4. Wednesday Adams
Nothing embodies Halloween quite like a classic Wednesday Adams costume.
This gothic chick is basically teenage angst personified, so in order to rock this look. you have to perfect that cut-throat frown.
And, bonus, Wednesday Adams clones are always the comfiest on Halloween. You can easily throw on a black shift dress that falls a little above knee-length (you can even stitch on own white collar), black tights, black shoes and you're good to go.
5. Britney Spears
I swear this outfit never gets old.
If you think Britney's breakout single "Hit Me Baby One More Time" is a '90s playlist staple, her preppy-meets-sexy private school uniform is equally just as classic. Just ask Lauren Conrad, who rocked the look back in 2013.
Whether you feel comfortable showing off a little midriff or keeping your white button-down buttoned up is completely up to you. There are a thousand ways to recreate the look, but just so you know, pigtails are a must.
6. Kelly Kapowski
What '90s girl didn't want to be Kelly Kapowski?
Between her perfectly quaffed, voluminous hair, Zack and Slater fighting for her affection, and the fact that, despite her queen bee status, the stereotypical cheerleader stayed humble, she was the epitome of life goals.
Copy Kelly's style with a pair of distressed denim and a cropped, off-the-shoulder Bayside sweatshirt.
7. Lola Bunny
Circa 1996, Space Jam was my jam, and I loved me some Lola Bunny.
Even as a little girl, I knew Bugs' girlfriend was all business. Pair your A-game and a ton of attitude with short shorts and a DIY jersey, and this costume is guaranteed to be a slam dunk.
8. Posh Spice
Got a little Gucci dress handy? No biggie, any little black dress will do if your goal this Halloween is to mimic the most fashionable Spice Girl of all.
Throw on a pair of chunky heels while you're at it and don't forget to master her signature point and snarl that's kind of sexy, and kind of scary at the same time.
9. Toy Story
He may not be a power-pop icon, but this Halloween tribute to every '90s kid's favorite toy dog is genius.
Upgrade your puppy costume with a trail of slinky rings and a bright green color to recreate this adorable look that not only looks cute, but is also super comfy.