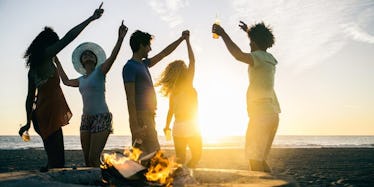 6 BFF Trips You Need To Take With Your Squad Before Leaving For College
oneinchpunch/Fotolia
Summer always feels longer than it actually is, so before you know it you'll be packing up and moving back to school. You know you'll be back home soon, but it's hard not to dwell on what other sort of adventures you could've fit into your schedule this summer, especially a few fun vacations with your girlfriends, trips to the beach, BBQs, and days spent doing nothing (or everything!) with the people you love most. Time is ticking away until you head back to college, but that doesn't mean you can't make the most of your time with your friends.
Especially if you all head back to different schools in the fall, the last few weeks of summer are of utmost importance. You could spend more time doing what you always do in your hometown, but taking an end-of-summer vacay with your friends would be much more rewarding. If you're uninspired or unconvinced, take a look at these ideas for vacations to take with your BFFs before you head back to college.
1. The Happiest Place On Earth
IMO, there are two types of people: those who love Disney, and those who lie. For real though, a trip to a Disney theme park is classic, fun, and (if you plan things right) it can be totally affordable. You and your squad can enjoy the youthfulness of Disney and forget about adulting for just a little while longer.
2. A Surprise Road Trip
You don't have to have a destination to have an epic BFF vacation. Grab your girls, pack your things, and pick a direction to drive — it's as simple as that. Give yourself a time limit, though, because you'll have to drive back home at some point.
3. Beach Days
Courtesy of Bo Stanley
A day at the beach is basically the epitome of summer, so get your squad to the coast while you still can. Depending on where you stay and how far you have to travel, a trip to the beach can be one of the cheapest vacation options, which is great for students. Or you and your girls can splurge and have the luxury tropical adventure of your dreams.
4. Camping
Since you'll be spending the next 10 months or so in dorm rooms and apartments, spend a night or two outside with your squad. You can turn your phones off and enjoy being with each other while you still can. If you're not the camping type, a cabin gives the same outdoorsy vibes with the added bonus of beds and indoor plumbing.
5. Wine Tasting Tour
There are wine tasting hotspots all over the country, so odds are you won't have to travel too far to find what you're looking for. Finish off your summer with an epic weekend of booze and views of rustic wineries (and your girls, obviously) for a trip you'll never forget. Well, don't drink too much if you want to remember every detail.
6. Big City Shopping
If you and your besties can splurge a little, a luxe vacay to a big city can be exactly the kind of pampering you need to end the summer. You can use the upcoming school year as an excuse to do a little extra shopping, too. Start paying off those bills as soon as you can, because you and your BFFs are going to be treated like the queens you most certainly are.