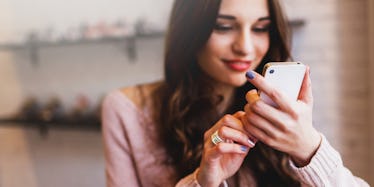 5 Instagram Accounts To Follow If You're Absolutely Obsessed With Astrology
Svitlana Sokolova/Shutterstock
Social media is more often than not a place we go to fuel up on fury. Whether it's politics, or someone who takes a joke too seriously, or even just people posting vacation pics while you're stuck at work, there's too much out there nowadays just waiting to set you off. But the good news is, social media gives you the power to literally erase the people who annoy you, and to curate the opinions, views, and jokes that cater to you. And,  if you're a rabid fan of astrology, you can turn to these accounts for comfort. Say goodbye to your Trump supporting relatives and add these people to your "following" list. You won't be bored, and you might just learn something about yourself in the process.
@Astromemequeen
Her bio reads, "talking about astrology irl has put a strain on all my personal relationships so now I meme about it," and I CAN RELATE.
This girl is hilarious, and her memes are not only funny, they make you want to learn more about astrology. I didn't even realize what a stellium was until I followed her and it suddenly made since to me why I act more like a Scorpio than a Pisces. She has literally solved a deep personal mystery not even my therapist could solve, and I owe her for this favor.
@Aquariana_astrology
I always get a kick out of this account, not just because it's funny, but because it has some good posts specifically about Aquarius, and I happen to be dating one.
If you have an Aquarius in your life, or work with one, or even run into one on the street, you may need an account like this to help you navigate their world view. Every Aquarian should come with a manual.
@Badassastrology
Whoever runs this account knows how to keep shit simple and to the point, and they don't sugarcoat anything either.
If there's one thing I love about astrology, it's when someone can pinpoint a unique detail about a person's actions and pinpoint exactly what sign they are, and this account is the best at that.
@Trashbagastrology
Astrology with a creative and feminist twist? Yes, please. I love this account and I just started following it this week. If you don't you are missing out.
Hint: Libra is Cher, from Clueless. So on point.
@ChaniNicholas
I would be remiss if I didn't mention my absolute favorite, real-deal-holyfield astrologer, the one and only Chani Nicholas.
Chani writes beautiful, thorough weekly horoscopes that include affirmations for every sun sign and rising sign on her site, but if you follow her on Instagram you'll get daily gems like this one above.
I don't know this for sure but I would bet she's a Virgo, because she's able to write about astrology and spirituality in such a grounded way that I never think to myself, "Hey, maybe she's a little out of her mind."
That's a rare find in the spiritual community.
So, there you have it. The top five Instagram accounts you should follow for daily astrological gems, not to mention some laughs.
You'll need those laughs, too, because let's face it, we're in the middle of eclipse season, and that's not easy.