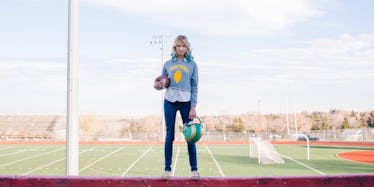 20 Instagram Captions For Your Tailgating Pictures That Will Keep The Party Going
If there's one thing about fall that seems to get everyone excited, it's football. Beside the obvious perks of the season, like pumpkin spice lattes, trips to the pumpkin patch, and of course, Halloween, there's the thrill of the game. Your school's team is playing again, there's a reason to break out the school colors, and most importantly, it's tailgating season. What better excuse to use some super rad tailgating Instagram captions?
I don't know a college student who doesn't equate tailgating with some of their best college stories. If you attend a football school, you know your team is the pride of your school, and everyone goes all out. The crowds that come out to the game are insane, and in between alumni, students, and staff, you'll never find a parking spot, but it's all good, it's for the love of the game!
This season, use the fanfare, cheering crowds and color-coordinated outfits to your advantage. Grab your team squad and get the camera out: these are memories in the making. These 20 Instagram captions are the perfect addition for all of your fall tailgating snapshots.
1. "Fall's out, football's out." -Unknown
2. "Food, friends, sunshine." -Unknown
3. "I can't really see another squad trynna cross us." -Drake
4. "Home is where the field is." -Unknown
5. "Clear eyes, full hearts, can't lose." -Friday Night Lights
6. "Winter, spring, summer, football." -Unknown
7. "We tailgate harder than your team plays." -Unknown
8. "Talk football to me." -Unknown
9. "It's not fall without football." -Unknown
10. "We're a team. End of story." -Unknown
11. "Hustle and heart will set you apart." -Unknown
12. "You're only as good as your team." -Unknown
13. "Your vibe attracts your tribe." -Unknown
14. "Be so good they can't ignore you." -Unknown
15. "I've got 99 problems, but our team isn't one." -Unknown
16. "Champions train, losers complain." -Unknown
17. "Win or lose, we still booze." -Unknown
18. "Dear liver: This game will be rough, stay strong." -Unknown
19. "You can't drink all day if you don't start in the morning." -Unknown
20. "Bad and boozy." -Unknown