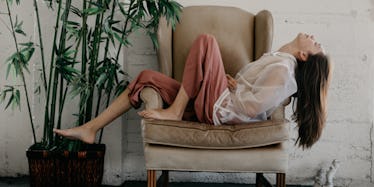 15 Ways To Plan And Actually Enjoy A Staycation Over The Long Weekend
For real, sometimes the best vacations are the ones you spend camping out in your own home.
Think about how unbelievably satisfying it is to laze around under the covers on a Sunday with nowhere to go, and no obligations to uphold.
Now multiply that by three or four days. Pure bliss, amirite?
I'm not suggesting travel-focused vacations aren't absolutely amazing, because experiencing the world outside of your comfort zone is seriously the ultimate thrill.
But staycations --  these are definitely worth your time off.
Save yourself the time-suck of planning a detailed itinerary, the aggravation of shore traffic, and feeding all your money to airfare and hotel rooms.
For the long weekend ahead of you, trade travel for homegrown activities with friends and loved ones that are equally, if not more, enjoyable than jetsetting across the world.
1. Pamper Yourself
Turn your bathroom into a spa-like oasis with candles, incense, dim lighting, and flower petals.
Or, if the romantic vibe isn't what you're going for, opt for bubble bath, or a super colorful, sweet-smelling bomb.
Work a few sheet masks into the weekend along with a little mani-pedi action.
Before you know it, you'll be back at work feeling refreshed and ultra-glam without ever stepping foot into a pricey salon.
2. Make Ice Cream Grahmwiches
Staying healthy on vacation doesn't have to be a bummer.
Swap store-bought sammies for this DIY delicious alternative.
Mix your favorite flavored yogurt with whipped cream, and spread the mixture in between two graham crackers.
Pop into the freezer overnight, and you'll have yourself a sweet treat to savor the next day.
Live a little dangerously and eat two for breakfast -- I dare you.
3. Break Out the Board Games
I am all in favor of busting some zombie guts and wrecklessly driving on the Mario Kart track, but board games are timeless and, sometimes, a bit more intellectually stimulating.
Arrange a stack of the classics, like Monopoly, Sorry, and Scrabble at the dining room table, and let your inner child come alive (and get competitive).
4. Come Up With A New Recipe
Using only the ingredients you have on hand (because this is a staycation, after all), channel your inner Martha Stewart and whip up a creation all your own.
Enjoying this self-inflicted house arrest with the roomies?
Even better -- make it a competition! Worst case scenario, both dishes come out horrible, and you order some pizza.
5. Watch Your Favorite Show All The Way Through (Again)
Once it was official that a Gilmore Girls revival was happening, I convinced my husband to watch the entire series from start to finish with me.
All the feels of loathing Rory, loving Jess, and the all-too-real desire to move to Stars Hollow all came rushing back.
Get nostalgic and watch your favorite television series from way back when.
Whether you're in the mood for a little rendezvous with Pacey Witter or some fashion inspiration à la Blair Waldorf, old DVD collections and Netflix are your best friends.
6. Clean Out Your Closet
OK, initially, this probably doesn't sound super relaxing or fun.
But for me, going through a closet or dresser toppling over with clothes can be a ridiculously satisfying task.
Make piles of to-keep and to-toss, and try on everything as you go. Put on a little fashion show for yourself, complete with cheesy, loud music -- because why not?
Play around with your pieces to create new outfits, and make room for new tops and leggings you probably don't need, but definitely want anyway.
7. Lay Out By The Pool
Sure, it's fun to road-trip down the shore with your BFFs to soak up a little sun and sand, but it's not really fair to neglect the water supply in your own backyard, if you're so lucky to have it.
Grab your towel, favorite floatie, an ice cold wine cooler, and a bit of light reading for when you get dizzy enough to jump out of the water.
8. Read A Book
Let your imagination do the traveling this weekend with a cup of iced coffee and a good novel.
Try your best to pick up a physical book to give your eyes a break from electronics.
Shut off the television, phone, and anything else that might be even the slightest distraction, and allow your mind to wander outside those four walls.
9. Eat Breakfast Outdoors
Even if you don't have a porch or patio, throw down a couple of blankets for an impromptu breakfast picnic.
Whip up some on-the-go goodies, like DIY breakfast sandwiches, overnight oats, and cold brew.
Enjoy the sounds of nature while you savor your meal.
10. Roast Marshmallows Over A Fire
If you own a fire pit, light that baby up!
If not, don't worry -- I've got an alternative.
One of my mother's favorite desserts is a roasted marshmallow over the grill during the summer, or over the stovetop during the winter.
Snack on these solo, or get fancy with some s'mores action.
I dare you to rummage through your cabinets to expand your palette past the traditional chocolate-mallow combo with things like nut butter or ice cream.
Take your taste buds on a wild ride.
11. Host A Barbecue
If your idea of a vacation includes being surrounded by friends and food, look no further than your own backyard for the ideal location.
Barbecues are a classic summer activity, and these days, they don't just include burgers and beer.
Make it a potluck, and encourage all invitees to bring their signature dishes.
12. Do A Yoga Sequence At Sunrise
Whether you opt to do this outside or indoors with the windows open, it's incredibly relaxing and immensely breathtaking to give your body the delicious stretch it deserves while gazing sleepily at a cloudy, pastel backdrop.
Namaste.
13. Do Takeout Differently
Can't decide on what to order in?
Who says you have to choose one way or the other?
Invite some friends over, and have everyone choose their favorite dish from anywhere that delivers.
Order at the same time so that everything is delivered within minutes of each other, and create a family-style spread on the dining room table.
Nothing about this is traditional, so don't just sit down and eat. Grab a pillow or blanket, and pop a squat on the floor like you did when you were a kid, because sometimes, it's just fun to do things that are a little unorthodox.
14. Get Crafty
In my opinion, there's nothing more therapeutic or relaxing than putting my hands to work.
There's something so satisfying about losing yourself in a work of art, or some sort of craftsmanship.
Paint, draw, knit, mold clay, do something that's entirely free-form, and let your mind and hands wander aimlessly.
15. Host A Wine Tasting
Turn your home into a self-made vineyard by inviting your best girlfriends and their favorite bottles over for a tasting.
The dress code? Pajamas -- duh.
Staycation translates to stay in and get tipsy, à la spiked grape juice.
Pinkies up!