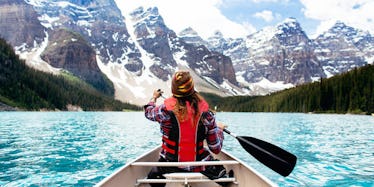 5 Ways Traveling Is Totally Different And More Rewarding Than Vacationing
Stocksy
I spent this summer on the trip of a lifetime.
For over a year, I planned and prepared for a five-week backpacking trip around Europe with my college roommate. I researched, read reviews and asked for recommendations.
Those five weeks were absolutely incredible, but also exhausting and frustrating. Though there were many lessons taken from that time, one stuck with both of us the most: the chasm between travel and vacation.
So many of our friends expressed how jealous they were of our five-week "vacation." But I can assure you, this trip could not have been further away from that.
The word vacation connotes relaxation -- the type of trip where no alarms are set, you have no responsibilities and no worries and you have people doing things for you.
Travel is different.
Travel is dirty and messy and hard work. Travel is ripping your sandals after walking 10 miles through Rome.
It's sleeping on a bar bench on an overnight ferry from Bari, Italy to Dubrovnik, Croatia, sharing a room with 14 strangers and having to push a button every 10 seconds to keep the water running while you shower.
Travel is not vacation, and besides learning there is a difference, I also learned travel is far more valuable. Here's why.
1. Traveling means long days, but they're filled with new experiences.
I have plenty of friends who book all-inclusive trips to Punta Cana (for example) and spend a week drinking, lying on the beach, eating in between naps and going to a club at night. And though there is value and enjoyment in that, it is repetitive, and keeps you trapped in the bubble from which you came.
When you travel, your days start early. Most days we had alarms set for 7 am because there was just so much to see in that city that our day could not possibly start any later.
Naps were a luxury we allowed ourselves toward the end of our trip or on cross country train rides, but they did not make the daily to-do list.
We absolutely partied at night, but quickly realized we were getting run down, and after battling a crushing hangover at the Anne Frank House, we remembered we weren't on the trip to drink, but to learn about people and cultures that are different from our own.
2. When you travel, relaxation is a privilege, not a guarantee.
Usually an objective of vacation is to "get away from it all" and relax for a few days.
I cannot remember a single day of our trip that afforded us time to relax. And we liked it that way.
We averaged walking about eight miles each day, and topped out in Paris at 13.6 miles in just under nine hours. There was so much to squeeze into each day; even walking around a foreign city is such an incredible experience, that to waste it "relaxing" would be a shame.
We fought through sleep-deprivation, brutal blisters, bronchitis and bee stings to make the most of our short time in each city. It was worth it.
3. When you travel, you will make large concessions on what are considered suitable accommodations.
Though this could be unique to young travelers/backpackers, our main type of accommodation was a hostel.
Though not as popular in the States (perhaps because of that horror movie), finding hostels throughout Europe was very easy. We used HostelWorld, and both the website and app were user-friendly and informative.
Some of the hostels in which we slept were nicer than hotels and offered more amenities, but most just covered the basics.
If you vacation, you are looking for the room with the fluffiest bed and the badass bathroom. You want the view from the window and the breakfast buffet and the on-site spa and pool.
You don't want to be sharing a queen-sized bunk bed with your best friend in a room with 12 other strangers where the shower is nothing more than a spigot coming from the wall.
But you will also meet amazing fellow travelers from all across the globe.
4. Travel means acting like a local, not a tourist.
I won't deny that we hit up the most popular tourist attractions in each city.
We operated on the belief that we may not get back to these places the rest of our lives. So we had to see everything -- even the tourist traps.
When you are on a vacation -- let's say to Italy -- tourist attractions are your entire itinerary. You probably go to Pisa to take a picture holding up the tower, but you probably miss out on the pizza cones sold from a small store in a cobblestoned alley.
We spent time in each country trying to learn what it was like to live there.
In Portugal, we struggled to stay awake for a 10 pm dinner time, but after go-karting at midnight, finding a hidden waterfall in Geres and eating a lunch of fresh sardinhas caught just hours before, we began to see the value in staying away from the hop-on hop-off buses, and sights with exorbitant prices and ridiculous lines.
The value of your trip comes in experiences and people, not the one-hit wonders of tourist attractions.
5. Travel pushes you outside your comfort zone, but in the end, you want to stay there.
There were days I felt so physically and mentally exhausted, all I wanted to do was curl up in bed and cry; my homesickness was callous-covered and worn down, but there were times when the raw patches of it broke through and it hurt so badly I couldn't move.
The world has always been a crazy place, but this summer was an especially turbulent time for Europe. The day we left, the Ataturk Airport in Istanbul was bombed; a few days into our trip, several students were killed after a standoff with ISIS in Bangladesh.
There was the horrific attack in Nice on Bastille Day, an axe-wielding extremist who attacked a German train, a head-on train crash in Italy, a shooting scare at JFK and constant threats of death and violence that formed a grey cloud over each day that we fought to push off the horizon.
Yet, I had never wanted to keep exploring more.
Yes, I longed to see my family and hug my boyfriend and laugh with my friends in person instead of through the screen, but it was the people we met and places we saw while traveling that reminded us there was a lot of good still left in a world that seems endlessly plagued with evil.
I am homesick now not for my cozy apartment and late-night cuddles with my kitten, but homesick for all the places I haven't seen and food I've yet to taste. I long for the next time I have the privilege to lose myself in a place completely unknown with strangers who quickly become friends.
One night, aboard a small speed boat zipping across the Adriatic from Hvar to Carpe Diem, an island home to only a nightclub nestled between the trees, rocks and ocean, I looked up.
Between the far-off lights and the cacophony of the liquor-fueled passengers, I found silence in the sky. Freckled with more stars than I had ever seen in New York, it reminded me the world was truly a good place, and that while we're here, we might as well dance.