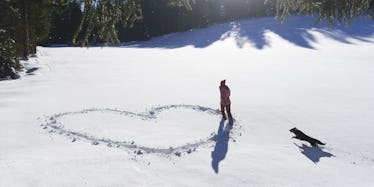 10 Reasons Why January Isn't The Most Depressing Month
REX/Shutterstock
Having lived in the frozen hell that is the North East for longer than I'd like to admit, saying I despise winter is an understatement.
Being a firm non-believer in New Year's resolutions, January is usually a waste of a month for me. This year, however, I'm determined to get all "Little Miss Sunshine" up in here.
So I've managed to find ten good reasons why January isn't the most depressing month after all:
1. We're Just Days Away From Fashion Week
Stilettos click-clacking all over the place, hot celebrity gossip, and to-die-for purses I can't afford but can lust after - welcome to Fashion Week! Every new year, I try to bring some flare to my personal style and Fashion Week is always there to provide inspiration. I hear that this year everyone who's anyone will be donning the elephant purse. Leave it to FW to give you creative inspo for the rest of the year.
2. Cheap Flight Deals
Thank God for the empathetic airlines which throw a few cheap tickets our way, knowing that we're probably freezing to death in Boston and NYC. January is the perfect time to hop over to the Caribbean, Cancun, Jamaica, Colombia and Costa Rica. Time to trade moaning for margaritas. Pack your bags.
3. Don't Forget About All That Juicy Gossip
I'm so thankful for that paparazzo who was most likely hiding in the infamous dumpster Selena Gomez and The Weeknd were making out by. These photos have sparked so many stories I can easily kill at least two hours at the office trying to connect the dots between the two lovers going from Taylor Swift all the way to Justin Bieber.
4. Running Around Naked Is Totally Chill In January
Well, sort of. Boston and NYC kicked off the year with a no pants subway ride which is nothing short of glorious. If only it was socially acceptable to leave the house in your undies every day... a girl can dream, right?
5. Kim K Is Back On Social Media
Finally! I was starting to get a bit scared that we'd lost our girl forever, but she's back, guys. Although we haven't seen as much of her lately as we're used to, Kim is doing just fine hanging out with her kids and Kanye. Looking forward to a year full of Kardashian bombshells.
6. Netflix Is The Gift That Keeps On Giving
...and my most loyal companion in this life. January serves a fine selection of new titles from the original "A Series of Unfortunate Events" to the creepy "Bates Motel," and the classic "It's Always Sunny in Philadelphia." Oh, did I mention "E.T."  is back? Pass me the tissues, please.
7. Gym Discounts
Since so many "resolutioners" sign up in January, gyms give insane deals on new memberships. This is where I swoop in. I'm a regular at the club, so every January I shop around for the best deals and see if I can lower my membership cost for the entire year ahead.
8. This Weird National Holiday
Did you know that January 16 is the official "National Nothing Day?" Yeah, that's a thing and I'm digging it. It's like, if we try our best to be able to do nothing all the time, might as well celebrate. You'll find me in my pajamas.
9. NFL Playoffs
I'm gonna be honest here, I'm no football connoisseur, but I love seeing them athletes run around flexing biceps on the field. Whatever your motives, enjoy this glorious game.
10. February's Just Around The Corner
Still not convinced January isn't all that bad? Then take solace in the fact it's nearly over.
There you have it - rock-solid proof that January is not, in fact, the most depressing month. Relax and enjoy what the cold month has to offer.