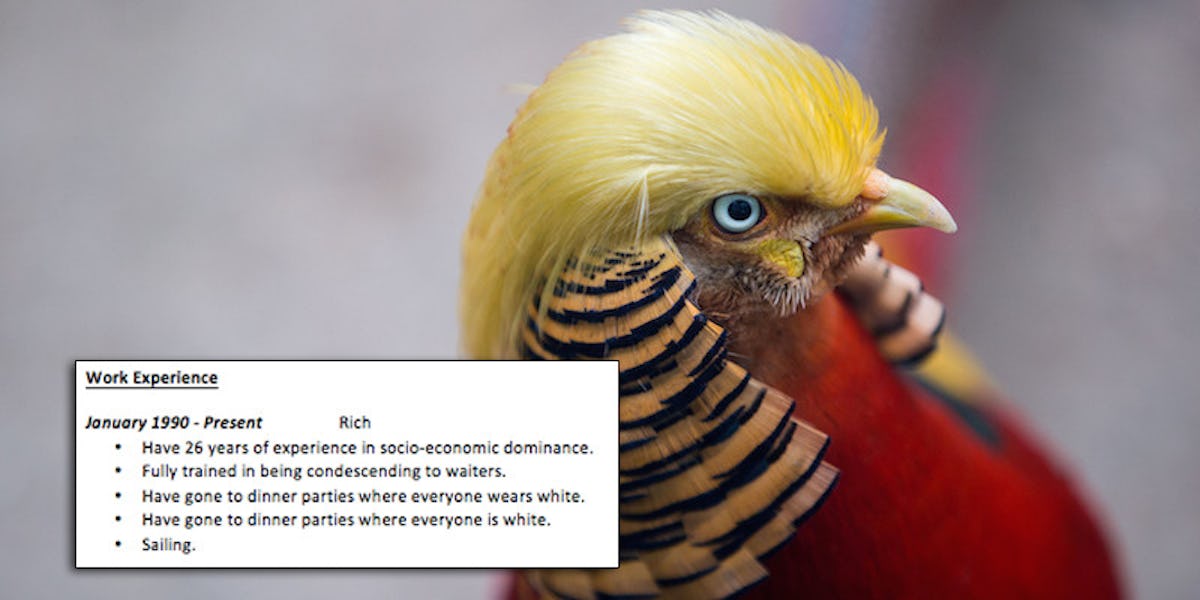 Here's The Ridiculous Resume You Probably Need To Work In Trump's White House
REUTERS
President-Elect Donald Trump is hiring.
He posted on his website that he's looking for about 4,000 appointees to work in his administration... and anyone can apply.
All you need to do is send over a cover letter and resume – and of course, prove that you've killed at least once in cold blood – and you, dear reader, can be part of history.
Now, look: I know making a resume can be extremely hard – I hate doing it so much – so I thought I'd help out a bit.
I came up with the ideal resume to land you a spot in Trump's administration.
Now, again, this is just a model. A good resume should reflect you. But this will help you understand exactly what President Trump is looking for in an employee.
Let's break it down.
Education
B.S. degree from Vine University
• Majored in: Telling Women To "Calm Down" In Meetings
• Studied abroad for six months in Blanc Privilége, France, where I volunteered as a gypsy-spotter for an expat organization called "XenophobiYEAH!"
• GPA: A+
Academic achievements: Recipient of the 2012 Nepotism Award for Daddy Excellence.
Work Experience
January 1990 - present: Rich
• Have 26 years of experience in socio-economic dominance.
• Fully trained in being condescending to waiters.
• Have gone to dinner parties where everyone wears white.
• Have gone to dinner parties where everyone is white.
• Sailing.
August 2008 - Present: Catcalling Incorporated
• Brainstormed creative catcalls.
• Led a team of objectifiers three summers in a row.
• Trained new recruits.
• Named the 2014 "SMILE, SWEETHEART!" Employee Of The Year.
Special Skills
• Dad is rich.
• Favored by justice system.
• Call of Duty kill-death ratio is 2:1. (It would be better, but my brother uses my account.)
• Love hip hop, but scared of black people.
References
• (891) 420-6969. That's my number. Call me. I'll tell you how good I am. I'm really good. I'm so good. At whatever. I'm the best.
• 911. Ask for the fire department because I'm really hot. Girls think I'm hot. Not guys. I'm not gay. But gay guys think I'm hot, too. But not in a gay way. I'm saying I'm hot. Ask a fireman.
I'll let you guys figure out what to write for your cover letter, but I'd say a safe bet is mailing in a droplet of your blood for Trump's official eugenics office to take a look at.
Good luck, guys!