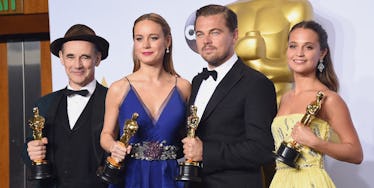 9 Ways To Pretend You Watched The Oscars When You Gave Zero F*cks
Getty Images
Lots of people use nationally-broadcasted events like the Super Bowl, the Oscars or political debates to get drunk, order pizza and stay the F home doing what we all actually want to do -- which is watch "The Great British Baking Show" and daydream about a life we'll never have living on the British countryside making tarts. Obvs.
Luckily, I watched the Oscars last night with the sole intention of taking notes, diligently keeping my eye on all the drama, scandals and memorable moments to bring you up to speed so you don't embarrass yourself around the water cooler at work this week.
I sat, pen and paper at the ready, with my camera there to record each juicy moment for three and a half hours PLUS an hour worth of pre-show red carpet bullsh*t -- and, to be honest? I was… well… bored. Just not that much happened.
I kept thinking someone would have a wardrobe malfunction or get drunk and slur his or her words or make out on stage. Instead, the most memorable thing for me was this guy not realizing he was in frame during Lady Gaga's performance.
Here are nine sort-of ways to pretend you watched the Oscars when really you gave zero f*cks.
1. Talk about how long Charlize Theron's neck is.
Look at that thing. I mean LOOK at it.
We are sure there is some optical illusion here with her plunging neckline and literal witchcraft gorgeousness but still, that is some serious neck. We bet she needed a limo with a sky roof just to get to the place.
Anyway, this is talking point numero uno and basically foolproof.
2. Watch this amazing Kohl's commercial and just keep quoting it.
This was the first of a series Kohl's ran throughout the evening, dubbing famous acceptance speeches into commercial scripts. This was our favorite because one, it was the first of its kind and took us by surprise. Two, we think the actors lip-syncing is better than the rest of the spots and three, who doesn't love a good Cuba throwback?
3. Talk about Leo OR talk about The Bear -- just don't do both because it's like WE GET IT.
I can count the number of things I know about Leonardo DiCaprio on one hand, and numbers four and five are this: He had never won an Oscar and in "The Revenant," he was viciously attacked by a bear, which might as well have been up for Best Supporting Actor itself.
(Numbers one through three are: "I'm flying, Jack, I'm flying," "Draw me like one of your French girls" and that he was smoking hawt in the show "Growing Pains.")
I don't know, I didn't see "The Revenant."  To bring you up to speed, he won the Oscar and The Bear made an appearance:
4. Idk, like, mention "Star Wars" or something?
R2D2, BB8 and C3PO were all in attendance last night as well so, when in doubt, if you're talking about the movies in any way shape or form, bringing up "Star Wars" is always a good idea and makes you sound legit.
5. Buy some Girl Scout cookies and say, "Mmm… Oscars, right? Lolololol."
Chris Rock FOR SURE used his time as host to blast The Academy for the lack of diversity, to bring up Jada Pinkett and Will Smith for boycotting the event and to play a series of short videos all featuring people of color -- but he also took up some serious air time real estate working the crowd for money to buy Girl Scout cookies from his daughters.
Initially, we thought the bit didn't go so well and would die the first time he brought it up, but eventually the girls were brought back on stage to reveal how much money they raised from the audience of millionaires. There was no real punchline and the whole thing seemed very forced and out of left field.
Kate Winslet bought some Tagalongs, though.
6. Real talk: Look up Joe Biden's speech on sexual abuse.
Joe Biden had some moving words to say about sexual abuse in America as part of his intro for Lady Gaga, who had an even more moving performance of her song "When It Happens to You."
You can catch Joe here and Lady Gaga's performance below.
7. Start campaigning for Louis CK to host the 89th Academy now.
In the midst of dry dialogue, jokes falling flat and pretty straight-forward teleprompter readings, Louis CK stepped out to present the award for Best Documentary Short Film and killed it.
Watch his relatable, honest and hilarious speech here.
8. Wear a bedazzled black suit for Halloween this year and go as "Kevin Hart at the Oscars."
My roommates and I were just talking about how we feel kind of bad for men when it comes to awards ceremony fashion. It just doesn't seem like they have as much range or as many options as women do with dresses.
Enter Kevin Hart in a sparkly, bejeweled tux to prove us all wrong. Kevin, we love you and we love your gems.
9. Buy a goddamn waterproof Samsung phone.
If I learned anything this year watching the Oscars, it's that Samsung has come out with a waterproof phone and virtual reality goggles and WANTS YOU TO BUY THEM.
The company had a variety of long commercial ads with a number of celebrity cameos, including Wesley Snipes, William H. Macy and Lil Wayne, all demanding new and exciting features on their current sh*tty phones. Honestly, it kind of worked and I learned you can purchase one for just nearly a breezy $800!
And there you have it, everything you need to know about the 88th Academy Awards. If you need us, we'll be over here Googling Charlize wearing scarves.
Luv u bai!