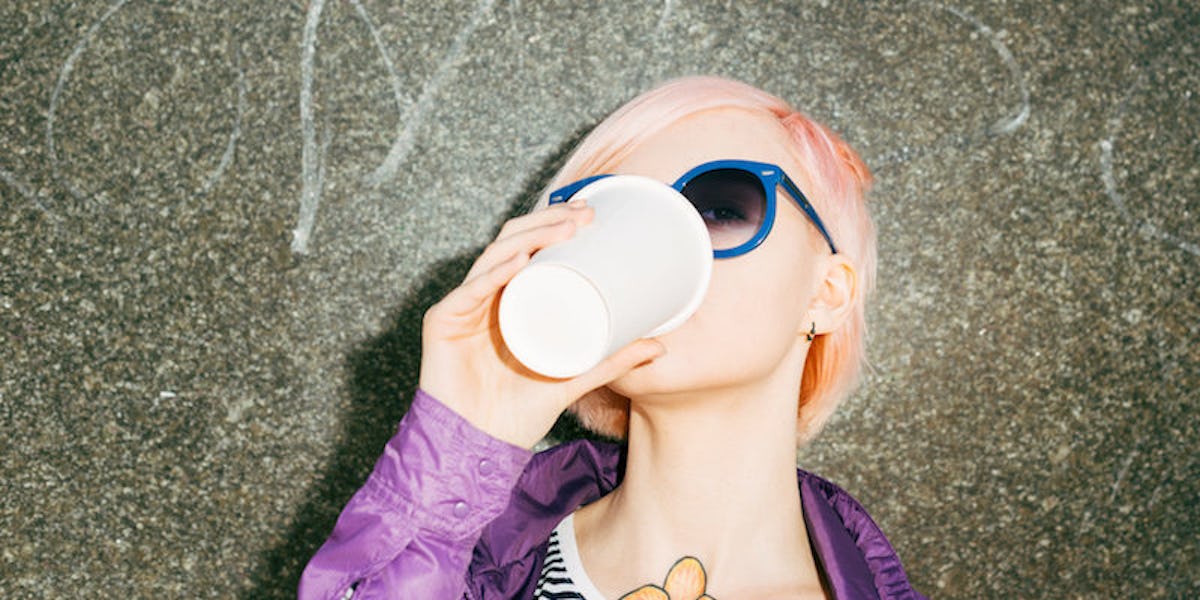 Everything You Want To Say To People Who Hate On Premature Pumpkin Spicing
Alexey Kuzma
I'm already completely hyped for fall. The second the clock strikes midnight on September 1, it's like I shed my summer skin, forget about bikinis and weekend trips down the shore and trade my flip flops for Ugg boots.
My apartment door is already adorning my autumn wreath, a pumpkin spice candle fragrances my kitchen, mums are decorated on the front porch, and I've already enjoyed three #PSL in high anticipation for whenever Starbucks is going to be releasing my fall favorite, Salted Caramel Mocha.
Yes, the second September 1 happens, it doesn't matter if it's still 93 degrees outside my window because I'm sipping that basic girl coffee and belting out the lyrics to "A Thousand Miles" as I make my way downtown, walking fast with faces passing by because I'm homebound.
Yet, there are SO many people who think that we're prematurely pumpkin spicing. So, in an open letter to you, here's exactly why you need to sit on down, sip on that #PSL and stop being so salty.
To the Premature Pumpkin Spice Protestors:
I wish I cared about anything the way you guys care about Starbucks serving Pumpkin Spice Lattes prematurely. I wake up in the mornings, devoid of caring about anything, and here you guys are, going out and making a difference.
You guys are taking a stand against something that *really* matters. Good thing there aren't bigger issues happening across the world, like presidential elections, #BlackLivesMatter, the economy or (insert important cause here). I totally envy that.
But, you have the right to stand up in defense that autumn is spreading like wildfire when it's technically still summer out. I agree, not every store sells a decent pumpkin spice product. (I'm thinking maybe I'll start a hashtag to support that.)
I support your opinion on premature #PSL, just as I support my right to enjoy Pumpkin Spice Lattes for the exact same reason. See, for girls like me, pumpkin spice is symbolic.
We like pumpkin flavored everything because of what it stands for: pumpkin picking and sharing those photos on Instagram, like walking up and down the city blocks in chunky boots and floral dresses with leggings and large floppy hats, sipping on a piping hot coffee as we feel the breeze on our faces.
It stands for wearing wine red lipstick again and baggy sweaters (which shed like 15 pounds in pictures), and a wonderful season filled with romance. It may be basic, but I hold that title proudly because they're all things I thoroughly enjoy. Just like tons of girls.
For women like me, fall isn't just about new coffee flavors; it's about saying hello to new opportunities as we begin to close on a year that's been filled with memories. It's about taking new opportunities, saying hello to old favorites and hosting bonfires with your best friends the same way you did in high school.
Autumn is the door to the most wonderful time of the year, a time that'll soon be filled with caroling, present shopping, family dinners and a time to reminisce about what you're truly thankful for. It's time for togetherness and all things whimsical.
There are some women who thrive in summer. They spend their weekends at the beach, partying at festivals and outdoor concerts, while the girls of autumn countdown the days to when they feel like themselves again.
The girls of autumn love chunky boots, wooly scarves and Ugg boots they've had since college.
Not to say you can't like both seasons, but a true autumn girl knows September and October are the best months ever. I mean, they've got pumpkins, cornstalks, hayrides, cinnamon spiced everything -- what's not to absolutely love?
Or, it could just be that I actually hate summer, have a terrible bikini bod and prefer hot coffees over iced. So, yup. Goodbye, summer and hello, fall. My Ugg boots are waitin' for ya!
#PSLforPrez2016