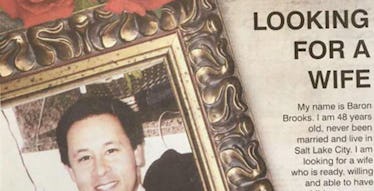 A Concerned Dad Spent $900 On This Bizarre Dating Ad For His 48-Year-Old Son
Baron Brooks (a man you are about to learn a lot about) has a 78-year-old father who really wants his son to have unprotected sex. By that I mean his dad was desperate to find him a wife.
So, like any dad would do, he decided to take out a $900, full page ad in the local Idaho newspaper to find his son a wife. And, because he thought things were not weird enough as is, he decided to put a bunch of red roses on it and write the entire ad in his son's voice.
Behold, a modern cupid hard at work:
I've transcribed the letter below and included some thrilling line by line commentary.
LOOKING FOR A WIFE My name is Baron Brooks. I am 48 years old, never been married and live in Salt Lake City.
Not exactly surprised this guy hasn't been married, considering how domineering and belittling his father is. Thanksgiving with this family must be like having dinner with Ramsay Bolton and Reek.
I am looking for a wife who is ready, willing and able to have children as soon as possible.
Kind of sounds like an ad for the military all of a sudden. But for baby-growing, not gun-shooting.
I look just like my picture except now I have grey hair.
I believe this statement like I believed my mom when she forgot to get me a present from Santa and explained that he didn't come one year because Rudolf had pneumonia.
About You You will probably be between the ages of 34-38 but that can be flexible.
This is a very weird statement for two reasons. 1) "Probably"? She'll probably be that age? What are you talking about? And 2) This is the most specific age ever.
You will be attractive being height and weight proportional.
Then he suddenly begins speaking like an alien. He's like a second away from delineating exactly what size nipples she must have for most efficient breastfeeding.
Ideally, you will have no children from previous marriages but that is also flexible.
Wow ... that's so nice of him.
HERE ARE THE MUSTS • You must be willing to move to Salt Lake City as that is where my business is located. • You must be politically conservative. This is very important to me. If you voted for Obama or plan to vote for Hillary you are not for me. • I am 5'5" and if you are 5'8" & like to wear heels it may not work. • Religion is open. • I would expect that if we have children you would be a stay at home mom.
Apparently, Baron had no idea what his father was planning. But is begrudgingly open to it if people call.
Because, honestly, after hearing all that what woman WOULDN'T want to move to Salt Lake City to marry a short man, have his children immediacy, not wear heels and not be prohibited from making your own money?
ONE AT A TIME, LADIES!
Citations: NY Mag