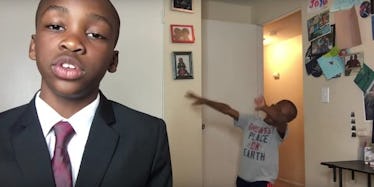 Viral BBC Interview Is Recreated With Kids And It's Funnier Than The Original
YouTube
On Friday, political science professor Robert Kelly became known to the world as the man whose kids shamelessly barged into his office during a live BBC interview.
As Kelly discussed the impeachment of South Korean President Park Geun-hye, his two children walked into his office dancing as he Skyped on live TV.
While most of us thought the sight was beyond hilarious, Robert Kelly looked anything but humored. Though, I'm sure he's laughing now that he's become a viral sensation along with his kids.
If he's still not laughing at the comical mishap, I think there's a new, similar video out there that will make his laughter impossible to contain.
YouTuber KevOnStage and a group of kids recently recreated Kelly's BBC interview moment, and it just might be funnier than the original clip.
The clip begins with a young man sporting a spiffy suit playing the role of Kelly. The kid isn't commenting on Korea, though. Instead, he's talking about something just as important to him: Santa's workshop and the North Pole.
Surprisingly, Buddy the Elf wasn't involved in the BBC interview...
As soon as he begins to elaborate on why we should preserve the North Pole, two dancing maniacs barge into the room to show off their wacky dance moves.
The frazzled suit-wearing BBC guest then repeatedly urges viewers to "pardon" the groovy mess going on behind him, which even includes a bit of "dabbing."
Check out the hilarious interview parody recreating professor Robert Kelly's botched interview with the BBC.
Bravo, young grasshoppers! I think this might be just as good as the original (if not, better). Hopefully, this clip will help Kelly feel better about his kids crashing his interview.
Apparently, he says he's embarrassed by the incident despite its viral success on the internet, according to News.com.au.
Honestly, what's the point of "talking heads on a TV screen" if they're not going to be interrupted by dancing flash mobs?!
Citations: Watch these kids recreate that wild 'BBC dad' interview (Mashable)