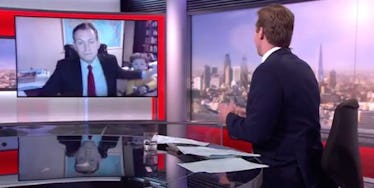 BBC Presenter's Serious Convo Goes Hilariously Wrong After Kids Crash Interview
Twitter
Robert Kelly is an expert on Korea and a professor of political science at Pusan National University.
He's also, apparently, a father.
Kelly Skyped into BBC to comment on the impeachment of South Korean president Park Geun-hye, which happened on March 9.
The BBC host was asking Kelly what the impeachment will mean for the region when a little girl saunters into the room where he's doing his interview.
Wearing a yellow sweater and adorable glasses, the girl shimmies up to Kelly and checks out the screen he's watching.
Kelly doesn't flinch, but the BBC host says,
I think one of your children has just walked in.
Kelly tries to push the child away from the screen. He grimaces. The men attempt to continue the conversation.
But then, a baby in one of those bouncy walker things bounces into the room to join the fun.
But back to Park Geun-hye...
Park was officially removed from power on Thursday, March 9 by a court.
She previously had her powers suspended in December by an impeachment vote. This follows weeks of protests from citizens over a corruption scandal.
Park now faces possible charges of bribery, extortion and abuse of power. She was accused of working with a childhood friend to get bribes from companies like Samsung, according to The New York Times.
As Kelly tries to explain what this means for the country — and tries to keep his cool as children giddily march into the room — a woman bursts through the door.
The woman, possibly his wife, stays crouched by the floor, apparently believing herself to be out of sight of the camera.
She snatches the children and clumsily backs them out of the room, closing the door tightly behind them all.
Kelly apologizes profusely.
But Kelly is far from the first live TV commenter to be interrupted.
Journalists shared their own embarrassing stories on Twitter, with interruptions ranging from drink orders to mothers.
And Kelly isn't even the first TV commenter to be interrupted by a child on live TV in the last month.
Rachel Sklar was sneakily nursing while commenting on CBC News, but her baby blew her cover.
Kelly wondered on Twitter if this moment would go viral and get "weird."
Well, yeah. Here we are. Congratulations, Kelly.
Citations: South Korea Removes President Park Geun-hye (New York Times)