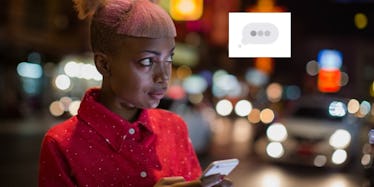 This App Will Make Your SO Think You're Sending Them The Longest Breakup Text
Jovo Jovanovic
If you ask me what purgatory is like, I'd imagine it's similar to those three dots you see when your significant other is typing.
Did I say purgatory? Silly me. I meant HELL. (JUST PRESS SEND ALREADY, BAE -- I'M HAVING A HEART ATTACK.)
Well, you can now troll your SO with an app called Godotify (aptly named after Samuel Beckett's "Waiting for Godot"), which will make it seem like you're typing away forever on Facebook Messenger.
All you have to do is download the app on your laptop and let it work its manipulative magic.
Copying and pasting this GIF just gave me a lot of anxiety. WHAT ARE YOU TRYING TO TYPE TO ME, GIF?
Iain Nash and Anastasis Germanidis, the app's developers, conceived and created it at the "Stupid Shit No One Needs and Terrible Ideas Hackathon."
The "Hackathon" is a "a one-day event where participants conceptualize and create projects that have no value whatsoever."
Or as I call that activity in my life, "every day."
Anastasis wrote in an email to Mashable,
We mostly wanted to make something that would poke fun at the whole chatbot trend and eventually arrived at the idea. Hopefully it can get people to think about the ways in which small design choices in our communication apps, like the typing indicator or the read receipt, subtly alter the way we relate to one another, raising the level of anxiety in our interactions while providing little discernible benefit.
Honestly, this is about as pointless as the return of Clippy as Chrome extension, but I still love it. It's sadistic, which is my only requirement for any app I download.
Looking to spice up your relationship by making your boyfriend or girlfriend think you're about to send an epic novel on Facebook Messenger? Then download the app right here.
Citations: This Messenger app will keep your friends anxiously waiting for your reply (Mashable)