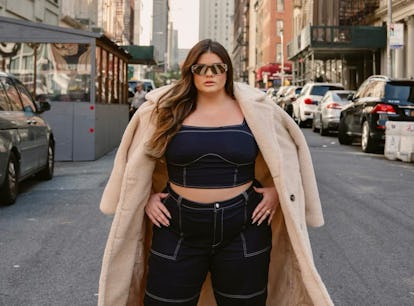 Remi Bader's Second Revolve Collection Is Here For The Holidays
The launch ranges from an XXS to 4X and includes 22 pieces priced at $150 and under.
Remi x Revolve
We may receive a portion of sales if you purchase a product through a link in this article.
While people seek more authenticity from the content creators they follow — deinfluencing is a major trend this year — Remi Bader's been ahead of the game this whole time. The 28-year-old TikToker, best known for her realistic try-on hauls, has been using her voice to call out fashion brands for their not-so-spectacular plus-size options since 2020. "I still want to wear the same things as everyone else," Bader tells Elite Daily. "That shouldn't be so difficult just because I'm bigger."
It was through her TikTok series that Bader got the opportunity to work with Revolve to create their first-ever plus-size collection in 2022. Now, Bader and Revolve have come together once again for a second collection, dropping Nov. 14 on Revolve's website. The all-new Remi x Revolve collection includes 22 pieces priced at $150 and under and will be available in seasonal colors like deep reds, browns, dark greens, and metallics.
To celebrate the launch, Bader will also be hosting an influencer trip to Amsterdam. "I picked Amsterdam just because it's a holiday collection," Bader says. "It definitely had to be somewhere colder, and Amsterdam came to mind." She also wanted a location with beautiful scenery as every attendee has a photo shoot of the collection on their itinerary.
Location wasn't the only thing she got to pick out. Every content creator going on the trip was selected by the TikToker and designer. "I needed to make sure that there were influencers of all body types that were within my size range for my collection, which is XXS to 4X," she says.
Bader, who says she thought about everything during the selection process for the trip, invited a mix of influencers she knows with ones she feels would be supportive of the line. Plus, she's even invited a few locals in Amsterdam.
A lot of these brand trips just have the same people with one body type, or not enough diversity.
The list of creators going to Europe includes Khloe Katera (@khloekatera), Mei Mei (@meimonstaa), and Cynthia Victor (@shawtysin). Bader's determined to make this trip both fun and welcoming for everyone invited.
"A lot of these brand trips just have the same people with one body type, or not enough diversity," Bader says, which is why she wanted to make sure that, like her Revolve collection, it was inclusive.
Despite having the holidays in mind this time around, Bader says the inspiration behind her second collab with Revolve was similar to her first: "Designing clothes that I feel like I've always had a hard time finding for my body." However, the content creator also used feedback from social media to put together items that more of her followers wanted to see. Bader says she wasn't necessarily surprised by what they said, but it did bring up things she hadn't thought of the first time around.
In her first collection, Bader designed clothes she wanted to wear, like crop tops and form-fitting items. "I didn't think, 'OK, this might not be everyone else's style.'" With this second collab, she thought about different style preferences in order to have something for everyone.
In this collection, you'll also find a mix of casual and going-out pieces, with the holidays — and accompanying events — in mind. For an office party that's on the more casual side, Bader recommends the deep red two-piece skirt set or the Nicole midi dress. If the attire is more formal, Bader also loves the long, brown Cat dress in the collection, which she teased prior to the launch on IG. Another option for a gala-style holiday event is the green sequin Donna gown, as well as the black, glossy Jacqueline jumpsuit.
The blue, watercolor style pattern in the Nicole dress also is available in a sheer top that Bader thinks would look great with a cute bralette and pair of jeans or the black Rana pants for a winter date night look. She also suggests wearing the Yvette top open over the Ali corset with the Camille bottoms. "You can mix and match so many of the pieces, whether you want to dress it up or dress it down."
As for her favorite item in the collection, Bader can't pick just one. After listing off the denim blue two-piece set, Ricky teddy coat, and green satin set, the fashion creator says, "There are so many pieces I love."
Hoping that her followers are just as obsessed with this collection as her previous one, Bader says that for any future collabs with Revolve, she'll take the same approach. "I would hope that we could increase and extend the sizing over time, and keep getting the feedback from my followers and other people to always do better."