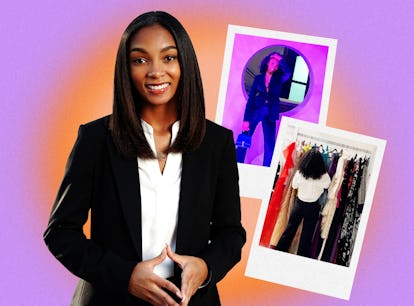 16 Hours With A Fashion Marketing Intern In Los Angeles
Alisa Drake takes us behind the scenes as she helps celebrity stylists dress their famous clients.
Have you ever wondered what it's like to work with celebrity stylists and global powerhouse brands? Nineteen-year-old Alisa Drake can tell you. The college student from Columbia, Maryland, a third-year business major at Howard University, spent the summer as a fashion marketing intern in Los Angeles, working at PR agency Rogers & Cowan.
From June to August, five days a week, Drake was fully immersed in the world of fashion and PR, getting to work with stylists for major celebs while also learning the ins and outs of sending out PR packages and reaching out to influencers. "The most important thing I learned was that connections are everything within the fashion industry," she tells Elite Daily. "A lot of our clients are based on personal connections the senior leadership has with them."
Drake was connected to Rogers & Cowan through the RaiseFashion x Anti-Racism Fund Internship program, which partners with 13 historically Black colleges and universities to connect Black students with internships that will help them grow a career in fashion. "A lot of the time in fashion, you have a lot of nepotism and privilege, so [RaiseFashion x ARF] made it so that [more Black students] have these opportunities," says Drake.
Though she went into her internship knowing she was really interested in marketing, upon finishing her time at Rogers & Cowan, Drake realized she has a "genuine passion" for fashion PR specifically. Here, she chronicles a day in her life as an intern, which includes everything from her everyday assignments to her go-to office outfit.
Thursday, July 13, 2023
6 a.m.: I begin my day with my drive to work. That 45 minutes when I'm driving is an integral part of making sure my day starts off right, and I have to pick out the right music to wake me up and make sure the vibes are good. I love to listen to Childish Gambino, Sade, Erykah Badu, and The Smiths.
6:45 a.m.: I have a workout session at the rooftop gym in my office building. I run on the treadmill for 15 minutes and do abs. By then, more people start coming to the gym, so I'm like, "OK, I have to go." I don't like working out in front of people.
8 a.m.: I shower and do my makeup in the gym bathroom. The biggest thing in my beauty routine is blush. I love putting it on my nose to make it look like I have a little bit of sunburn. Even on days when I don't want to put on makeup, I'm going to put on that blush because my manager will be like, "Oh, my God, you're here, you're ready to go."
I put on jeans and Dr. Martens — I wear this outfit to work all the time. The fashion industry isn't like corporate America — you can really bring yourself to the workplace, and that's important to me because if I'm comfortable in what I'm working in, I can do my job better.
9 a.m.: I literally get a coffee as soon as I get to the office. Then, I say hi to the other interns for 15 minutes, and we have a morning kiki session. We've all gotten really close during the internship. After that, I head to the meeting with the whole global team. We get together with [the other international offices], and we talk about what projects we're all working on, what somebody may need help with, or if anyone has any suggestions.
10 a.m.: I'm on the front lines, reaching out to stylists to ensure the seamless return of loaned pieces and assisting them in picking out the best pieces to certify the visibility of our clients.
I love when the stylists come in. They're very bougie. They'll come in with their dogs and their Starbucks matcha, and I'm like, "Period, you're eating the girls up." They usually pull clothes, but sometimes they'll just sit and we'll talk for 30 minutes. A Victoria's Secret model came in one day to try on dresses, and then she stayed for a chat. She said a lot of the times when she goes overseas to shows in Paris, she's actually really lonely, but she never shows that on social media. It was honestly a relief to hear because not everything is as glamorous as it seems online.
The most exciting person I was able to work for was a Barbie actor. She went on The Kelly Clarkson Show, and we dressed her for that in an Azzi & Osta ensemble. It's rare that the celebrities ever come in themselves, but it's usually their stylist, so it's still pretty big.
11 a.m.: The Gifting and Dressing team huddles up to map out upcoming events and craft strategies that'll help elevate our brands.
We had to shift a lot because of the SAG-AFTRA and writers strike. Actors couldn't do premieres or PR for any movies, and those were our main avenues for dressing talent, so we had to figure out how to pivot. Obviously, the strikes aren't good, but they came at a good time in my internship because I was able to learn a lot. We basically had to shift to looking more at musicians and influencers. It became, "Oh, now we have to dress celebrities for music videos. Now we have to dress artists on tour.""
Noon: It's Privé o'clock! My biggest project is Privé Revaux, an eyewear company, which makes sunglasses we gift to celebrities and influences. I help pick certain people, reach out to their PR teams, and get their addresses and the styles they like. TikToker Anayka She did a whole unboxing. I was like, "Oh, my God, I did that, period." I'm able to help cater to influencers who are around my age. We're less interested in what Angelina Jolie is wearing and more interested in what somebody like Monet McMichael or Sofia Richie is wearing.
1 p.m.: For lunch, I enjoy some homemade tamales from the farmers market. I go with my intern besties. I literally love them so much.
2 p.m.: This time is dedicated to inventory and making sure all the racks look nice. Just keeping up with the showroom, sending out packages, and writing little cute notes to people like singer Olivia Rodrigo and basketball player Shai Gilgeous-Alexander.
3:00 p.m.: Another thing that takes up a lot of time is tracking. We track everybody we gifted to on social media, to see if they're wearing the products in any of their posts.
4 p.m.: Happy hour is what I look forward to most because I get to network with people in different departments. I can connect with people in branding or on the influencer side, and it's really cool to hear what they're working on. I meet a lot of senior leadership at happy hour, or I'll go pop into their office and be like, "Hey, what's up?"
5 p.m.: I'm on the hunt for the next wave of talent to ignite our outreach efforts. It's like being a talent scout, seeking those hidden gems that could elevate our projects and campaigns. I'm looking for the talent that will be the best fit for each brand. We have Marshan, the umbrella company for Victoria Beckham, Karl Lagerfeld, and Lanvin, so we have to find certain people for that. They're name brands, so they're a little picky about which people wear their stuff.
6 p.m.: The traffic in L.A. is so bad, so I get off at 6, but I really won't get home until 7:30.
7:30 p.m.: I immediately go and put on my PJs. I'm staying with family in Long Beach, so it's very nice to come back to a home-cooked meal. I eat dinner and then watch Love Island UK. Sometimes if it's a nice day out, instead of watching TV, I'll sit by the pool and read a book like Seven Husbands of Evelyn Hugo.
9 p.m. to 10 p.m.: I shower and do some breathing exercises before I go to bed. That really just knocks me out for the night. Obviously, I scroll on TikTok a little bit, but then I can go straight to sleep. I'm very much in my mindfulness healing era this summer, so I am doing everything to live my peaceful life.
This interview has been edited and condensed for clarity.