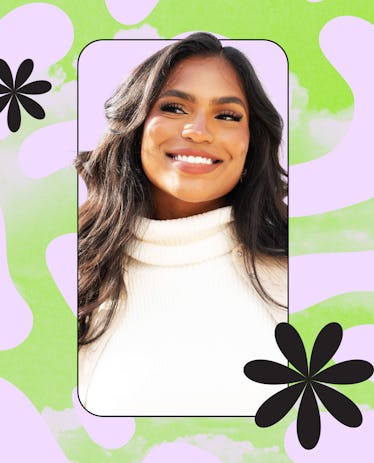 17 Hours With TikTok Star Monet McMichael
The beauty guru brings us along as she films content, watches true crime on YouTube, and does her nighttime skin care routine.
Monet McMichael/Elite Daily
If you'd told Monet McMichael a year ago that she'd spend her weekend filming in a helicopter for Fenty Beauty and getting her makeup done by Makeup by Mario, she wouldn't have believed you. "I never thought my life would ever be like this in my wildest dreams," the 23-year-old content creator tells Elite Daily in an exclusive interview. "Every day I just have to pinch myself."
Wanderlust-inducing influencer trips and Coachella gifting suites aside, the creator life isn't all glamorous, McMichael says. Fresh off a trip to NYC, the New Jersey native shares that she skipped dinner to edit content for eight hours once she got home. "Editing is my life," she says.
Like other GRWM it girlies of the moment, McMichael is a beauty guru who's gained a loyal following (3.2 million followers on TikTok) for sharing tips and keeping it real with fun, bubbly commentary and BTS tea about her life as a creator. Whether she originally made it onto your FYP with her viral micellar water and colored eyeliner eyeshadow hack or you're a new Monet stan after seeing her slay in brand trip videos with fellow TikTok stars Xandra Pohl and Alix Earle, you'll see that the Rutgers nursing alum is constantly on the go — and leaning into the unpredictability and "chaos" of all the opportunities right now.
"Being in content creation has been a roller coaster," McMichael shares, admitting she didn't realize how much work went into the job until she was a creator herself. "I grew up on YouTube and originally thought it's such a cool, easy career. I do have moments of burnout, but they're fleeting. I love creating."
Below, she shares a peek into what a day in her life looks like when she's at home in between brand trips and events.
Thursday, March 23, 2023
8:00 a.m.: I woke up and scrolled TikTok to see what I missed and get some inspo. My management is on West Coast time, so it's nice to have some freedom in the mornings and time for myself before it gets busy. Honestly, I love gathering sounds on TikTok and seeing what's happening. It gets my brain creative in the morning.
9:00 a.m.: Coffee is a must, and I'm having fun with my coffee era right now. I just got a new Keurig and a new Nespresso. I love Cafe Bustello. I literally drink that black with simple syrup, and I basically do an intermittent fast until lunch.
10:00 a.m.: I left to go to the gym. I've been trying to get back into my routine, where I'll spend an hour and a half working out. It's really good for me mentally and physically, and it helps me feel my best during camera opps and photo shoots. I remember there was one photo shoot I did where I was just so out of shape and my confidence was not there — you could just see it, and I was like, I never want to do this again. I just want to be the best version of myself, and going to the gym is part of that for me.
I like having a workout buddy, whether it's my mom, dad, or a bestie. I'm still trying to figure out how to keep myself motivated, but I like to do the elliptical for 45 minutes and add some strength training afterward. I love core, I love legs, and I try to get my arms in there. And I always end with the sauna.
12:00 p.m.: Once I got back from the gym, the first thing I did was shower. I hate sitting in my clothes after a workout, so it's kind of like my self-care thing. I'm more into my nighttime skin care, but I do a simple moisturizer for the day.
12:30 p.m.: I'm not a breakfast girl because I don't really have an appetite when I wake up. But by the time I get home for lunch, I'm ready. Having a yogurt parfait with fruit is my tea right now. Eating something sweet for lunch is new — I used to be a sandwich girl. But I have fun prepping the fruit — I go to Whole Foods and stock up on whatever they have, trying new things. Then I'll just snack on it all day.
1:00 p.m.: I sat down to start editing. Editing is my life, honestly — every single day I'm editing, whether it's for like an hour or like eight. Today, I have to make clothing selects for Coachella pics, edit a few campaigns, and then do a concept for a brand. Yesterday, I edited for an eight-hour stretch where I was doing Makeup by Mario content and I forgot to eat dinner — I just wanted to pump it out. I feel like it's kind of like an itch I have to scratch.
3:00 p.m.: I took a few phone calls and answered emails. My team started requesting things, and honestly, emails are crazy. I didn't realize how many little tasks go into creating content and handling a lot of platforms, personal content, and branded content.
3:30 p.m.: Once I finished, I did some filming, which is the fun and easy part for me. Whether it's like a quick sit-down video or a full daily vlog, I feel like my phone is like my right hand, literally. It's kind of like I have this reflex to capture everything on my camera.
I filmed a day in the life video, and I'm thinking of doing this face-shaving video, because looking at the Makeup by Mario content from this weekend, the peach was fuzzing. Like, with that lighting, I'm like, why am I giving wildebeest? I jotted down other content ideas as they came on my phone.
6:00 p.m.: I started cooking dinner. Recently, I got into a HelloFresh kick where I've been cooking in the kitchen for like an hour every night. Tonight, I tried the Cheesy Mushroom Chicken. I don't have the energy for it most of the time, though. Sometimes I'll get something pre-made at Whole Foods or DoorDash something, which I don't want to get into the habit of.
7:00 p.m.: I went in on my nighttime routine and showed. I haven't had that peace of mind at home for a while where I could just vibe out because I've been traveling. Now that I'm done with editing, it's like my mind opens up and my brain is running a thousand miles per minute in the shower, thinking of ideas. I washed my hair tonight, so I'm thinking I can wake up and film a rope curls tutorial.
I did a full exfoliation with a new African exfoliating rag, which makes me super smooth, then used a skin spin brush. The rest of my routine is a face mask, toner, serum, moisturizer, and then a serum for my hair. I did a hair sleeve and conditioner, did my rope curls, and put a candle on.
9:00 p.m.: I got out of the shower and started scrolling. I love, love, love that a big part of my job is interacting and responding to comments. It's so special to me to stay connected and show love back. Just like seeing that the girls will tag me in the video being like. "Trying this thing that Monet tried" or just like, "I love her," and I'm like, "I see you." Looking through my mentions on TikTok, YouTube comments, and TikTok comments is one of my favorite pastimes.
10 p.m.: I caught up with the gang for an hour. I FaceTimed my mom, my dad, and my best friend. I'm finally going to hang with my mom tomorrow. I'm so excited.
11 p.m. - 1. a.m.: I ended my night watching true crime on YouTube. It's my obsession. I started with Bailey Sarian, and I've watched every single one she's ever posted. Her, and Eleanor Neale, Kendall Rae — those are my three girls for true crime. I stayed up until 1 a.m. because I started getting paranoid about being in my house by myself before falling asleep.
I felt really happy to be home, back on my routine. I just vegged out yesterday, but it felt really good to wake up feeling productive and on my sh*t today.
This interview has been edited and condensed for clarity.