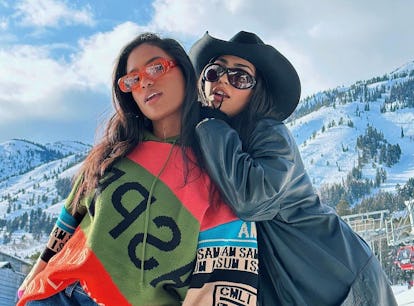 Glow Recipe's Viral Influencer Trip Hotel Is A Kardashian Fave
Is Jackson Hole the next celeb hot spot?
Fresh off the viral Dubai influencer trip, content creators like Alix Earle and Monet McMichael had to pack their bags once again for another sponsored vacay. This time around, their destination didn't require a passport. Instead of international jet-setting, Glow Recipe's Wyoming influencer trip hotel in Jackson Hole kept it domestic. However, their trip was just as fab. They even stayed in a hotel that's a fave among celebrities like Kim Kardashian and Justin Timberlake — the Amangani.
The Amangani in Jackson Hole, Wyoming is among the Aman Resorts, which are Kar-Jenner faves. Their Canyon Point, Utah resort, the Amangiri, was a go-to summer vacay spot not just for Kylie Jenner but Hailey and Justin Bieber as well. According to Vogue, Kim Kardashian even celebrated her 37th birthday at the Amangiri. Just two years later, Kim and Kanye West spent some time in the Jackson Hole Aman Resort while he was recording his Ye album, according to Dirt. Wyoming is quickly become a hot spot for celebs to get away to, so it makes sense that Glow Recipe would choose this up-and-coming location for their influencer trip.
Staying on top of the latest trends is something TikTok content creators like Earle and McMichael know all too well, but what was it really like staying in this bougie, off-the-beaten-path destination?
Where Is Glow Recipe's Wyoming Influencer Trip Hotel?
The Amangani is the Aman's resort in Jackson Hole, which is near the Teton mountain range. The resort has both luxury suites and homes that you can stay in during your trip. Glow Recipe chose to treat each of the influencers to their own suite with wooden and stone decor, and the rooms definitely gave off a luxury ski resort vibe.
From McMichael's first vlog of the trip, it looks like she was staying in a Deluxe Suite. The spacious suite at the Amangani features a living room area with a window-side daybed, fireplace, gorgeous soaking bathtub, and private balcony overlooking the mountains. The bathroom is probably why they chose this particular suite for the Glow Recipe influencers — it has plenty of space with twin vanities. There was even a dressing room off to the side, which looked like a walk-in closet. It was perfect for both McMichael and her bestie to capture GRWM videos together for each of their events.
Earle also showed off her first day in Wyoming and took followers on a tour of her Deluxe Suite on TikTok. Each one of the influencers found swag and Glow Recipe products waiting for them in their rooms, like custom flannel shirts, pajamas, and champagne.
How Much Are The Deluxe Suites At The Amangani In Jackson Hole?
Perhaps you've been influenced to add Jackson Hole to your wanderlust bucket list. In that case, you'll want to start saving up. To stay in the Deluxe Suite, you'll need to spend at least $1,350 a night. The price depends on which day of the week and season you're thinking of going. For instance, rooms are around $1,900 a night right now in February with prices starting to go down in April. For snow-covered mountain views, however, winter really is the best time to visit.
There's also a two-night minimum at the Amangani, which means Glow Recipe budgeted at least $3,800 per influencer on their three-day hotel stay alone. However, that doesn't include all the fun activities, dinners, and amenities planned for them as well.
What Activities In Jackson Hole Did The Influencers Do On Their Glow Recipe Trip?
The first thing on McMichael's itinerary once she arrived in Jackson Hole was to visit the spa at the Amangani. Her and her bestie got massages, which range from $250 to $500 a person. They then went to dinner at the Amangani, where they met everyone else on the trip and were treated to bedazzled versions of Glow Recipe's Mini Plum Plump Hyaluronic Acid Moisturizer.
The next day, each of the influencers and their plus ones went snowmobiling — one of the winter activities offered at the resort. Following their adventure outside, everyone returned to their home away from home to jump in the hot tub and relax before going to a sushi dinner. On day three of the trip, Mikayla Nogueira shared in her vlog that everyone went to Kemo Sabe to customize their own cowboy hats — a super cute activity that's very on-theme for Jackson Hole.
To continue their cowboy-themed day, everyone went to the Four Seasons Jackson Hole, where Glow Recipe revealed their latest product over champagne and hors d'oeuvres. After their farewell dinner back at the Amangani, everyone went out to party at the famed Cowboy Boy.
Basically, there are definitely plenty of things to do in Jackson Hole if you're thinking about making the trip out west as well. Even if you don't stay at the Amangani, the destination has been a go-to fave among the Kar-Jenners for years. The family chose to visit Jackson Hole in the Season 17 finale of Keeping Up with the Kardashians, and when talking about relocating there, Kim had rave reviews. "We love Wyoming, it's always been such an amazing place," she said. Now that the Glow Recipe influencers are sharing their wanderlust-worthy itineraries, it looks like Jackson Hole will definitely be one of the top destinations to visit this year.