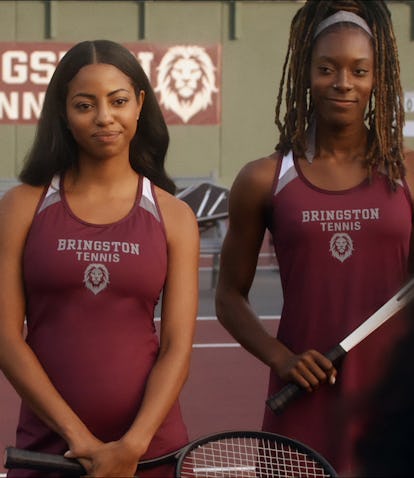 HBCU Student Athletes Share the Most Inspiring Advice They've Received from a Teammate
To celebrate the premiere of The CW's new series, 'All American: Homecoming,' three athletes share the best advice they've received.
If you've ever been a part of the team, you know the highs and lows that come with the territory. Although teammates work together and function as a unit on the court or field, the unique mix of personalities can certainly cause friction at times.
When you sweat, practice, and face opponents together, drama is inevitable — as Simone and Damon experience at Bringston University, the fictional HBCU (historically Black college or university) in the new CW series All American: Homecoming. But it's helpful knowing that when the time comes to face an opponent, your teammates unequivocally have your back.
To highlight HBCU athletes working hard for the betterment of their team and their futures, as well as the unique bond teammates share, three athletes shared the most inspiring advice they've ever received from a teammate.
"Be Yourself"
"The most basic, yet influential advice that my teammate gave me going into my freshman year was to just be myself. I was young, and in a different type of environment and around people of a higher status than I was used to. I would find myself trying to figure out how to act. I asked my teammate, 'Am I supposed to adjust the way I act around certain people?' He said, 'Be yourself. Don't force yourself to be something different. They're going to accept you for who you are.' I reflected on what he said, and realized he made it to the NFL just being himself the whole time. It was so simple, but great advice that I take to heart to this day." —Malcolm Williams, Football
"Give Yourself Permission to Breathe"
"Simply 'breathe' has been the most helpful piece of advice I've ever received [from a teammate]. When faced with sadness, suffering, or problems — in life or in sport — it's easy to pretend we're doing just fine when really we're struggling. I realized that I was so busy trying to hold my breath through tough situations — both metaphorically and physically — when I could have used help. That's no way to live a life. Holding our breath or breathing shallowly always stops us from feeling. And to heal from anything, we have to feel it or breathe mindfully whenever possible. Being able to reroute my life by noticing that I had been holding my breath for so long and finally giving myself permission to breathe was a very pivotal point in my life." —Gregory Odom Jr., Golf
"Believe in Yourself"
"As a freshman on the track and field team at the Xavier University of Louisiana, I struggled early on with applying many of the new concepts and techniques required for my event, the triple jump. One of the senior jumpers saw that I was becoming frustrated with my lack of progress despite my hard work and consistency. After a particularly long and difficult practice, he walked up to me and said, 'If you believe in yourself and continue to work relentlessly on your craft, you will see success. Appreciate the small victories [now] and take note of all progress: You will appreciate your successes much more because you will remember what it took to get there.' This conversion taught me the value of patience and gave me the motivation to continue honing my skills, ultimately leading to my success on the track in the following years. From that moment forward, I have applied that philosophy in all aspects of life. It has proven to be an invaluable piece of advice and will likely continue to be an integral ingredient in my recipe for success." —Keairez J. Coleman, Track & Field
For more inspiring interactions that can only come from teamwork, sportsmanship and working hard in the face of adversity — and a more in depth understanding of the lives of HBCU student athletes — tune into The CW's series premiere of All American: Homecoming on Monday, February 21 at 9/8c. Or, watch the episode for free the next day on the CW app.