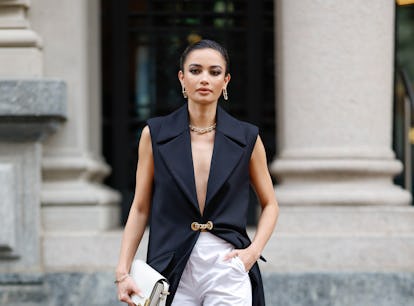 Kelsey Merritt Shares The Fall Fashion Trend She Can't Wait To Try
Plus, the one accessory the model can't live without this season.
Rachpoot/Bauer-Griffin/GC Images/Getty Images
Kelsey Merritt is calling in from Paris Fashion Week. Fall is in full swing around the Eiffel Tower and the fashion girlies have that certain je ne sais quoi to their style that Merritt can't quite put her finger on. "People are so fashionable here … it's just so undone and effortless," she tells Elite Daily.
The 27-year-old Filipino American model has quickly made a name for herself as one of fashion's rising stars. Not only was she the first Filipino to walk in the Victoria's Secret Fashion Show, but she was also the first Filipino to grace the pages of Sports Illustrated's famed Swimsuit edition.
Originally from the Philippines, Merritt is now bicoastal, but frequently finds herself traveling the globe for photo shoots and fashion shows. She's been sharing her international lifestyle on Instagram since 2014, posting glimpses of her travels and her own personal style.
Garnering nearly 3 million followers on Instagram and TikTok. These pages act as her own fashion diary, where she's able to post the things she loves and help others develop their own love of fashion. Still, she says her online fame was unexpected. "Being a model all these years, I'm used to being a blank canvas and not being known for what I like or my style. With social media, I was able to unexpectedly showcase more of myself and who I am," she says. "It's been surprising and very heartwarming to know that it's so well-received by so many people and that they love my style."
Nowadays, the world of modeling and content creation has streamlined into one industry, a change that allows Merritt to continue to build a name for herself on both fronts. Below, we spoke with the fashionista about her must-have fall staples, seasonal trends she's dying to try, and the queen of fall herself, Princess Diana.
Elite Daily: You were just in Milan for Fashion Week, did you see any interesting trends while you were there?
Kelsey Merritt: I definitely saw a lot of booty shorts. Tom Ford had them, Max Mara had them, Gucci had them. They're back.
ED: How would you describe your overall style aesthetic?
KM: Before it was even a thing, I didn't even know what "quiet luxury" was, but I always gravitated towards classic, timeless, elegant, and sophisticated pieces that I would always have in my wardrobe. I'm not big on huge logos on clothing or anything. I like more minimalist stuff and more just classic timeless stuff.
ED: OK, now how would you describe your fall style aesthetic?
KM: Fall is my favorite season of the year, and what really gets me into the spirit of fall is doing fall nails, like dark brown manicures, suede brown boots, and suede leather jackets. I really lean towards those aesthetics. It gets me in the spirit of fall.
ED: Where do you find the most inspo for your outfits?
KM: I love looking at vintage Ralph Lauren, and Princess Diana is one of my fashion inspirations. And also just people-watching. People are so stylish. When I went to New York, Milan, and Paris, just looking at the shows and the people walking on the streets, there are so many fashionable people that I take inspiration from and I take notes of how they wear things and I'm like, "Oh, that's cute. I could try that sometime." They're just a different fresh perspective on things I normally wouldn't think of combining together.
ED: What about Princess Diana's style do you gravitate toward?
KM: I love how she's able to mix and match things that don't really normally make sense. Like cowboy boots, a blazer, a hat, and a cap. Those are things I wouldn't normally put together myself. It looks chic, so comfortable, and wearable. Just understanding how her mind worked in putting together all these things is what I really love about seeing all her outfits. She found a way to mix and match things while keeping it very classic and timeless.
ED: As summer comes to a close, what are some of your wardrobe must-haves to transition to fall?
KM: So right now in Paris, it's been very interesting because we're at the start of fall and the weather's really unpredictable. In the morning it's cold and then it's hot in the afternoon. You really need good transitional pieces for this kind of weather. As I was dressing myself today, I was thinking to wear a really good light layer that you can easily take off is something that's vital for a transition into fall. Right now I'm wearing shorts and a cardigan.
ED: What new trends are you excited to try this season?
KM: I really love the skinny scarf trend. I don't have one yet, but it's so chic. It's effortless, not too thick, and it provides some level of comfort, some level of warmth. That's one thing I will definitely add to my fall wardrobe this year.
ED: What are your thoughts on wearing white after Labor Day — OK or totally taboo?
KM: I've done it, I always do it. I wear white all year round. It's just like I can't get enough of it. Also, I'm from the Philippines, so I didn't really know about the, "Can't really wear white after Labor Day" thing.
ED: What's the one fall accessory you can't live without?
KM: I would say a blazer — like a good tan, dark brown blazer. I have one that I wear so much. It's just such a good everyday blazer and it's not too on-the-nose fall because it's easily an all-year-round blazer, but the color is just like the leaves turning orange.
ED: What's the most recent clothing item you bought for fall?
KM: I went to YSL yesterday and I bought these knee-high patent leather boots. Not very fall, but they were beautiful and I would definitely wear them for fall.
ED: Let's say you're headed to a pumpkin patch or an apple orchard for the perfect fall date — what are some of your outfit must-haves?
KM: I've been really into my riding boots, although I don't ride. It's not a really common boot that people wear, but it just elevates any outfit. You could easily wear it with a suede legging, a riding boot, and a shirt. And that, on its own, is so chic. But I don't know if I would wear that to a pumpkin patch. Maybe with a blazer, that could be cute. At an orchard, I could do a long silk skirt, a cashmere cardigan, and ballet flats.
This interview has been condensed and edited for clarity.