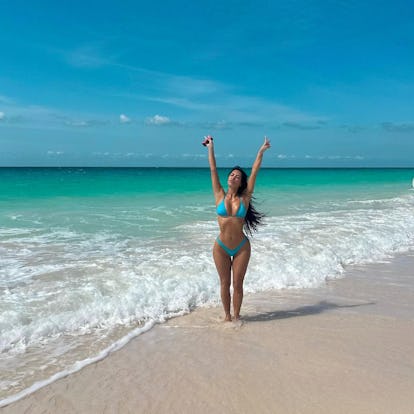 Kim K's Thongkini Pics Are All The Summer 2023 Swimsuit Inspo You Need
Since summertime provides the best weather to take a dip in the pool or frolic along the beach, these three months usually bring an onslaught of fresh bathing suit style moments. Based on recent celeb Instagrams and TikToks, it's clear that thong bikinis, aka thongkinis, are one of summer 2023's biggest swimsuit trends. All across your feeds, you can catch everyone from Emily Ratajkowski to Gabrielle Union displaying their behinds with minimal fabric, but there's no one better to take inspo from than the one who broke the internet with her butt: Kim Kardashian. The media mogul and all of her famous sisters have been rocking thongkinis for years, so it's no surprise that she has become the queen of the style, providing mere mortals with all sorts of thongkini inspiration.
While the 42-year-old wears more than just her own designs, after the release of SKIMS and subsequently the SKIMS swim line, more often than not, she can be found rocking her very own SKIMS thong bikinis that come in various styles and colors all the way from Barbiecore pink to her signature, more neutral shades. No matter what bikini Kardashian wears, you can count on it to fit into the thong category. Below, find all of Kim Kardashian's thongkini pics from 2023 (so far).
Kim K In A White Thongkini
While snapping pics at the beach, Kim K wore a white thong bikini set paired with a silver pair of sunnies. The light shade really emphasized her tanned skin.
Kim K In An All-Black Thongkini
Here, Kardashian stuck to the basics with a plain, all-black thongkini look paired with a waist chain for a little bit of flare.
Kim K In A Tan Thongkini
Opting for one of her classic neutral looks, Kimmy can be seen taking a mirror pic, showing off one of her traditional SKIMS designs.
Kim K In A Pink Thongkini
The SKKN BY KIM founder hopped on the Barbiecore trend in this bubblegum pink swimsuit while on vacation. "Pinky swear," read the caption. Cheeky (in more ways than one).
Kim K In A Blue Thongkini
Matching the ocean water, Kardashian wore a blue bikini set while posing on the beach in June.
Kim K In A Mix & Match Thongkini
While lounging by the pool during a recent vacay, Kim wore a black bikini top with, what appears to be, a pair of snakeskin bikini bottoms proving that you can your swimwear doesn't have to be one-note.
Kim K In A Thongkini & Tee
Instead of a classic bikini top, Kim paired a white patterned tee with a pair of black thong bikini bottoms before doing cartwheels at the beach. All in a day's work.