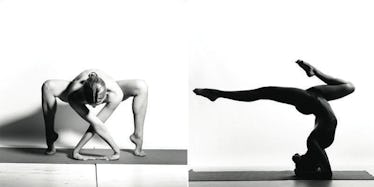 This Woman Does Yoga Completely Naked, And It Looks Insanely Beautiful (Photos)
A while back, I introduced you to the yogi who invented #TrillYoga.
If you thought that sexy take on the traditional poses was pretty cool, you'll be glad to know there's another yoga account heating up on social media.
Nude Yoga Girl is the latest mind, body and spirit account gaining some serious attention on Instagram. The account already gained over 92,000 followers since it was created five weeks ago.
If you're wondering what this hot new Instagram is, it's exactly what it sounds like.
Nude Yoga Girl features a variety of black-and-white snapshots showing an anonymous 25-year-old photographer twisting herself in all sorts of advanced yoga poses -- in the nude.
But despite what you would expect, her bare-skinned photos are pretty G-rated, and all of her dramatic photos are taken at home with the help of her boyfriend.
On why she created the account, this anonymous yogi told New York magazine,
My biggest issue in the past was that I saw faults in my body all the time, and that made it impossible for me to love myself fully... With my account I want to inspire people to realize that everybody is very beautiful and capable of [doing] amazing things with their bodies... Yoga helped me accept my body exactly the way it is.
This body-positive yogi can certainly teach us all a thing or two about loving ourselves and embracing who we are.
Take a look at the pictures below to see the anonymous yogi's awesome yoga pictures.
Sure, we've all heard of people doing naked yoga...
...but we've never seen bare-skinned yoga like this before.
Nude Yoga Girl is the newest yoga account heating up on social media.
As the name suggests, this account features an anonymous 25-year-old photographer...
Who shows off a variety of insanely hard yoga poses...
...in the buff, of course!
However, this bold yogi manages to keep all her dramatic black-and-white snapshots suitable for work...
By using a variety of clever angles...
...and shadows to keep all her private parts hidden.
In fact, all of her photos are quite tasteful...
...and she actually makes her buff poses look like beautiful forms of art.
This bare-bottomed yoga girl isn't posing nude to create sex appeal.
Instead, she is on a mission to inspire others with her bold poses.
She wants to let the world know everyone is beautiful...
...and we all have the ability to do amazing things with our bodies.
Citations: Nude Yoga Girl Transforms Her Body Into Art Without Breaking Instagram's No Nudity Rules (Bored Panda), Instagram Sensation Nude Yoga Girl Explains Her Practice (New York)