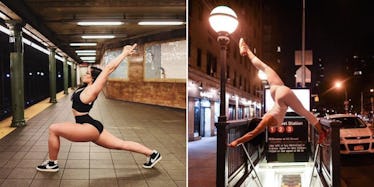 People Are Now Embracing These Seriously Beautiful #TrillYoga Poses (Photos)
If you thought Bikram Yoga was hot, you might want to brace yourself: Your favorite poses are about to get seriously steamy.
#TrillYoga is the newest mind and body trend taking over the spiritual fitness scene.
Now, lots of people are embracing their inner yogis by taking it all off and twisting themselves into poses that make yoga look pretty damn sexy.
So, what is Trill Yoga exactly?
Well, it's a form of yoga that isn't afraid to be real AF. Yogis with all different body types and skill levels show off their curves by practicing their poses in little to no clothing.
Claire Fountain, the 29-year-old yoga instructor behind Trill Yoga, told Huffington Post,
Trill Yoga doesn't follow the rules, it makes them. It's OK to be any body shape, to wear what you like, to listen to what you like, and realize you don't need a fancy studio -- you don't even really need a mat.
Take a look at the pictures below to see this "trill" new trend.
See you later, Vinyāsa...
Trill Yoga is the hot, new way to practice your poses...
...and now lots of people are stripping down and showing off their stretches on social media.
According to its creator, Claire Fountain, the difference between Trill Yoga and traditional yoga is Trill Yoga is "rooted in the physical and practice [and] less esoteric and spiritual."
Plus, it looks a whole lot sexier than normal yoga.
Fountain hopes her Trill rendition will make yoga less intimidating for newbies...
...by showing people they don't necessarily have to have slender "yoga" physiques to strike the poses.
Aside from encouraging a healthy lifestyle...
This practice is all about embracing who you truly are...
...while showing off your curves, of course.
Fountain told Huffington Post, "It's just a reminder to me that stereotypes exist, and that's part of why Trill Yoga is so important to me."
She continued, "[I want] to break down the notion that yoga can't be strong, modern, hip, and even sexy, in a real, raw way."
Fountain plans to spread the Trill Yoga movement by going on tour in the future.
She said, "Hopefully I can represent something that is real and genuine, and show that it's OK to be shaped this way, it's OK to read books and be healthy, and that it's OK to carry on doing yoga despite judgement."
Citations: Incredibly Sexy Photos Of Trill Yoga Will Inspire You To Get It 'Om' (Huffington Post)