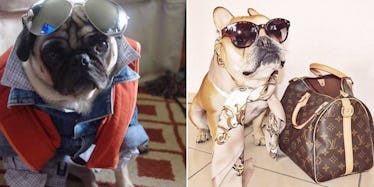 The Well Dressed Dogs Of Instagram Have More Swag Than You Ever Will
Instagram
By now, you've probably seen some pretty fashionable pups on social media, like the Rich Dogs Of Instagram and Bodhi the menswear dog.
However, those fly fidos aren't the only dogs dripping in designer labels these days.
There's another group of stylish mutts taking the four-legged fashion scene by storm and marking their territory on social media with some seriously impressive #OOTDs.
Behold, Well Dressed Dogs.
As the name implies, Well Dressed Dogs features a bunch of barking bosses that aren't afraid to flex their insane doggy swag on Instagram.
From chic canine couture and mutt menswear to hipster hound hats and preppy puppy plaids, it's not hard to see these fido fashionistas effortlessly dominate every ensemble they get their paws on.
Seriously, these dapper dogs will put even the best dressed humans to shame.
Take a look at the pictures below to see these furry fashion icons.
Style stuntin' is a habit.
Doggy denim done right.
All gold everything.
My puppy eyes are up here.
I don't pop Milkbones, I rock Tom Ford.
No puparazzi, please.
Valentino is the only thing that touches these paws.
Get in, loser, we're going shopping.
Ball so hard, fashionistas wanna fine me.
Every day I'm shufflin' in style.
No look is complete without a canine cardigan.
As long as my bitches love my #OOTD.
Hipster hound style at its finest.
Bitch, don't kill my vibe.
Cher Horowitz has nothing on this chic pup.
Fido fashion never sleeps.
Dripping in dapper doggy swag.
Can't touch this canine Coachella couture.