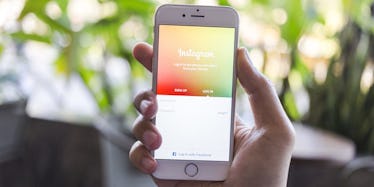 Here's How To Turn Your Instagram Account Into A Virtual Reality Gallery
Shutterstock
Your prayers have officially been answered, Instagram fanatics. Sketchfab, the 3D-model powerhouse, just launched a new app called Instamuseum that will let you integrate virtual reality with your favorite Instagram photos.
The app works simply by taking pictures from your Instagram feed and turning those snapshots into a virtual reality gallery that anyone from family to friends can appreciate (because scrolling through your 132 filtered selfies in 2D just wasn't cutting it).
All you have to do is enter an Instagram handle (doesn't have to be yours) on the website, and within a few minutes, you'll be directed to a link for your virtual gallery. Hosted on Sketchfab's site, you can view the brilliant memes of Dogs Being Basic on the walls of several famous museums including the Louvre. From there, it's just a matter of getting those memes actually on the walls of the Louvre.
Up to 12 images can be displayed at a time, so you can experience multiple virtual exhibits featuring your ugly food pics. Virtual reality has never had a better use (as of Wednesday).
Citations: This tool turns your Instagram feed into a VR gallery with one click (Mashable)