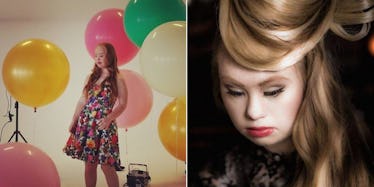 Inspiring Teen Model With Down Syndrome Will Walk In NY Fashion Week
If you don't remember Madeline Stuart, allow us to reintroduce her.
Stuart first made headlines this year after beautiful photos of the inspiring model went viral.
It wasn't so much the photos that were special, but rather, Stuart herself: She has Down syndrome.
But Stuart has never let that stop her from reaching for the stars, and her hard work is paying off. She's been working on multiple campaigns over the past few months, but undoubtedly one of the 18-year-old's biggest accomplishments is signing on as a model for the prestigious New York Fashion Week.
Cosmopolitan recently sat down for an interview with Madeline's mother to talk about her daughter's future, her modeling career and what it means to be different in the entertainment industry.
Check out the full interview, and see pics of the rising superstar below.
Madeline documents her most recent modeling jobs via social media...
...and she's associated with big names like Estbythelna.
From the looks of it, though, this is only the beginning for Madeline.
She's built up quite the fanbase on Instagram...
With more than 52,000 followers...
...and one of her very first followers was none other than supermodel Karlie Kloss, according to Madeline's mom.
Madeline's mother hopes the publicity will teach people not to discriminate...
...and remind others to always follow their dreams.
Sounds like a pretty solid message if you ask me.
Take a look at more of Madeline's pics here, and stay tuned for her NYFW appearance.
Citations: 18 Year Old Model With Down Syndrome Will Walk at New York Fashion Week Change the World (Cosmopolitan)