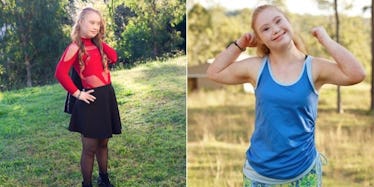 This 18-Year-Old With Down Syndrome Just Got A Big Modeling Contract
This young woman's desire to be a model goes far beyond her own dreams.
Recently, 18-year-old Madeline Stuart, an Australian teen with Down syndrome, shared the inspiring story of her desire to be a model.
Now, less than two months later, Madeline signed a modeling contract with Manifesta, a US-based activewear brand committed to creating diversity-positive clothing and changing the stigma surrounding disability.
The teen also received offers from more than seven other brands that support her quest to change traditional beauty standards; in addition to Manifesta, Pin Up Girl Clothing, Mint and Chopsticks Clothing and Got Glam Cosmetics presented modeling opportunities to Madeline.
She was even asked to make appearances on television shows in Germany and Hong Kong.
In order to pursue her dreams of modeling and create a healthier lifestyle, Maddy lost over 40 pounds.
On its website, Manifesta wrote,
For years Madeline has fought against the struggles, both internal and external, that go along with Down syndrome. Through dance, swimming, and cheerleading she has worked to strengthen her heart and body.
The company added,
Just as Madeline is committed to expanding people's ideas of what a model can be, Manifesta is determined to show that the clothing and fashion industry doesn't have to be exclusionary, that one brand can work for women of various sizes.
The activewear brand encourages its customers to turn focus away from comparing their sizes to numbers, and so, it uses flowers to represent different sizes.
Although Madeline is receiving an incredible amount of attention, her mom, Rosanne, insists she always knew her daughter would share an important message with the world.
In fact, Rosanne told Daily Mail Australia,
I'm not surprised, I think the world was waiting for Madeline. I think it resonates with people because it gives them hope. When I had [Madeline] I didn't have the Internet, I didn't have anyone to give me hope and there's so many people touched with disability who once felt isolated. This is about inclusion and everyone being equal and the little person having a big voice.
Madeline's drive to change society's beauty standards is truly inspiring.