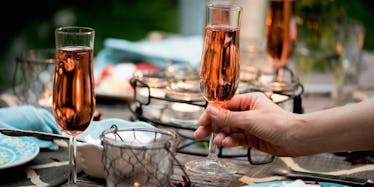 A New Delivery Service Sends Rosé To Your Door All Summer Long, So Sign Us Up
Summer seriously can't come fast enough.
If you're like me and absolutely hate the cold, you're already dreaming of days by the pool or beach, reclining somewhere warm... with a glass of rosé in hand, of course.
Rosé is the PERFECT summer drink, and just picturing it is giving me warm vibes. I mean, if it were up to me, I'd just stock bottles of it in my apartment all summer long.
And now, a company is making it super easy to do just that.
The Summer Water Societé, a wine subscription service launched earlier this month, has started a rosé delivery service. That means you can get rosé delivered STRAIGHT TO YOUR DOOR from May through July.
This GENIUS idea was a collaboration between the winemakers over at Winc and the founders of Yes Way Rosé, an Instagram account turned rosé lifestyle brand. Because let's be real: Rosé IS a lifestyle.
The world's first ever rosé subscription service will come with three magnums – about six bottles – a month for the months of May, June and July. Prime rosé season, OF COURSE.
Each delivery will also contain small gifts handpicked by Yes Way Rosé founders Nikki Huganir and Erica Blumenthal, designed to take your summertime fun to a whole new level.
And apparently, the wine tastes AMAZING. The website describes it as "dry, light and perfectly crisp — with notes of strawberry, pink grapefruit and white peach."
The founders wanted to remove the complications that come with ordering a bottle of wine – namely, the complicated language and obscene price points – and focus on the act of sharing a drink with your loved ones in the balmy summer air.
ALSO, "The first rule of the Societé is never run out of summer water."
So, these guys are basically my soulmates.
But like all good things in life, the subscription doesn't come cheap. It'll cost you $350 for all three months, but keep in mind this price DOES include the equivalent of 18 regular-sized bottles of everyone's favorite summer refresher.
IDK about you, but being supplied with crisp, fruity rosé all summer long sounds pretty damn tempting.
Now, if only the weather outside would match my mood.
Citations: Rose Delivery Service (Bustle)