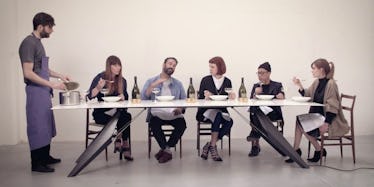 This 'Smart Table' Can Cook Your Food, Chill Your Drinks And Charge Your Phone
YouTube
What if there was a single surface that allowed you to conquer life's most common tasks all at once?
Cooking dinner, grabbing ice to cool your drink, frantically looking for your iPhone charger like a madman - these are just a few of the little tedious daily happenings we all have to deal with.
There are smartphones, smart cars, smart tortilla makers and now smart tables. Introducing the Smart Slab, a multipurpose table surface designed by SapienStone and Kram/Weisshaar, a Stockholm-based design firm.
According to Hypebeast, this table, fitted with a 6-millimeter-thick ceramic tile surface, allows you to cook, warm plates, chill drinks, and wirelessly charge your phone. Let's just say this thing is the future of kitchen surfaces.
The 154-pound Smart Slab  is made up of five different technology components responsible for cooling, heating, cooking, touch sensing and induction-based charging.
If you were wondering when we'd finally get to toy around with Jetson-like futuristic gadgets in the comfort of our own homes, it's safe to say we're certainly getting there.
If Tesla's mind-boggling auto-pilot feature isn't a clear indication of that, the Smart Slab certainly is!
As of yet, there has been no word on if and when the table will go into production for consumer buying.
Check out the video above for a closer look!
Citations: This Smart Dining Table Can Both Charge Your Phone and Boil a Pot of Water (Hypebeast)