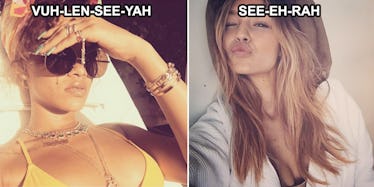 How To Pronounce Those Instagram Filters You've Definitely Been Saying Wrong
Kylah Benes-Trapp
It's always embarrassing to find out you've been doing something wrong your entire life.
Whether it's bragging about your trip to "Fuck-it," Thailand, ordering a glass of "bor-dox" with your "broo-shet-tah" or showing off your new "Giv-en-chee" bag at brunch, there's all sorts of words out there that can really trip up your tongue.
But let's be real, the spelling of some words can be pretty darn misleading.
Of course, it's perfectly understandable to make a few slip-ups when it comes to saying the names of foreign cities, fancy foods and bougie fashion brands every now and then.
But did you know you might also be butchering some of the Instagram lingo you use on the reg?
Yep, when it comes to saying the names of your beloved Instagram filters, it turns out that pronouncing their names can be a lot more difficult than using them to edit your selfies.
But don't worry, we recently put together a handy guide that breaks down the correct pronunciation of all those sneaky-sounding filters.
So the next time someone asks you what filter you used on your photo, you can confidently look them in the eye and say "Valencia," instead of lying and saying you can't remember.
Check out the pictures below to see all the Instagram filters you've been saying wrong:
Clarendon
Amaro
Gingham
Crema
Perpetua
Valencia
Sierra
Reyes
Aden
Lo-Fi
Juno
Mayfair
Hefe
Hudson
Slumber