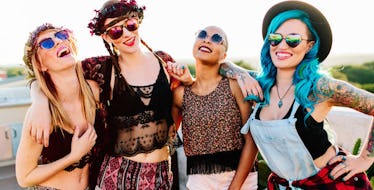 These Hot Panorama Music Festival Looks Will Inspire Your Summer Style
The Panorama Music Festival at Randall's Island Park in New York City is going on this weekend... and if you're not there, where the heck are you at?!
My coworker and I scoped out the festival, and let me tell you, it's lit.
From a delicious variety of ~Instagram-worthy~ food, sick murals that make for prime photo ops, fun interactive booths and a solid lineup, Panorama is what every music festival should be and more.
We first hit up the VIP section and then worked our way down to the Panorama Stage. One of my personal faves was the Sephora Collection tent, where chic festival-goers could have their hair touched up and get super glam with gloss balms and body art. We got tatted with rose gold and took photos in Sephora's sick photo booth.
We posed in front of several walls, all for the prime Instagram… because, well, obviously.
We made friends in the Bai Beverages VIP Lounge over refreshing cocktails and ice pops, and of course had to stop at Eggloo for a yummy ice cream treat.
If you're not in on the Eggloo egg waffle shop craze yet, you need it in your life ASAP. I mean come on, just look at this heavenly Matcha creation…
When it came down to business time, we were fueled up and had our minds set on a goal -- to scope out the trendiest festival fashions of the day.
Let's be real here, fashion is one of the major aspects of festival life, and I highlighted the best of Saturday for anyone who wants festival style inspo.
This leather-clad duo was perfectly coordinated…
…While this festival-goer's funky glasses and flower kimono seriously stole the show.
This girl's chic grunge ensemble was complete with a bold necklace, plaid perfection and combat boots.
Glitter, jeweled body art, lace and strappy sandals always make for a fun festival outfit…
…And the sheer trend definitely took over the grounds.
We have to hand it to this guy, whose hair matched flawlessly with his shades.
These gals totally worked the casual-chic vibe, pairing their dresses with sneakers.
Oh wait, and who's this girl looking fab in her tribal tats?
Panorama 2016 is where it was AT this weekend… time to start planning our outfits for next year!