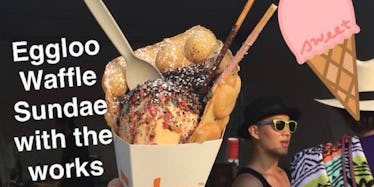 8 Food Vendors You Need To Hit Up At Panorama Music Festival This Weekend
Steph Ironson
If you're headed to Panorama Music Festival in New York City this weekend, you've got a lot to look forward to.
The festival — created by the same people who brought you Coachella — is in its debut year, but that's not holding it back from an impressive lineup. From Kendrick Lamar to Arcade Fire to LCD Soundsystem, festivals goers have no shortage of big names to Snapchat.
I was lucky enough to get VIP passes to the festival on Friday, and let me tell you: The Snapchat game is tight.
Sure, the music and interactive multimedia art is dope, but I can say with confidence that the real star of the show was the food.
Entertainment editor Stephanie Ironson and I basically ate our way through the evening. (My stomach does not feel so great now, but it was worth it.)
The point is, if you're headed to Randall's Island Park for Panorama on Saturday or Sunday, here's some food you definitely shouldn't miss.
Oh, also, make sure you drink a lot of water and bring sunscreen. It's hot as balls out there.
OK, let's get into some food!
Yo, this shiz was so good. We tried the fried chicken po' boy sandwich and the twisted Idaho potato with cheese and bacon. Both were delicious — particularly that sandwich.
If you've got VIP access this weekend, definitely hit up these guys for your sushi fix. Unfortunately, if you don't have VIP, you won't be able to get it. :(
Customized ice cream sundaes in a delicious, fluffy waffle cone? Yes, please.
Come for the eye-catching drinks inside a pineapple, stay for the ice cream sandwiches made with freshly baked cookies.
Delicious Indian food bowls, and on the cheaper side of the festival vendors!
OK, at this point our stomachs were bursting, so we didn't actually hit up Dough. But I've had it before, and trust me, those doughnuts are the best.
If you're a New Yorker, you should already know that Roberta's is always worth it.
If you get the burger craving this weekend, Bareburger is always a delicious and sustainable choice.
Happy eating, festival goers!