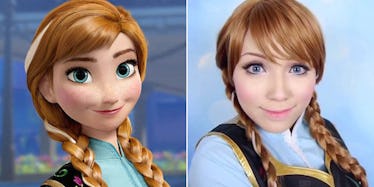 Makeup Artist Unbelievably Transforms Herself Into 15 Disney Characters (Photos)
It's amazing how much you can change your appearance with a little bit of makeup.  Remember when we showed you that talented makeup artist who transformed ordinary people into epic comic book superheroes?
Well, she's not the only one who can create some pretty insane characters out of cosmetics.
Promise Phan is another talented artist who knows a thing or two about the power of makeup, and recently, this popular YouTuber set out to transform herself into a bunch of your beloved Disney characters.
So far, she has turned herself into 15 different Disney guys and gals including everyone from Snow White and Princess Jasmine to Queen Elsa and Li Shang from "Mulan."
All of her magical makeovers look unbelievably amazing, and the best part is, you can recreate all of these fairytale looks yourself because Phan posts step-by-step makeup tutorials on her YouTube channel.
Take a look at the photos below to see her incredible Disney makeup.
Esmeralda from "The Hunchback of Notre Dame"
"Alice in Wonderland"
Anna from "Frozen"
Ellie and Carl from "Up"
"Mulan"
Princess Jasmine from "Aladdin"
Li Shang from "Mulan"
"Maleficent"
Merida from "Brave"
Mother Gothel from "Tangled"
"Pocahontas"
Queen Elsa from "Frozen"
Rapunzel from "Tangled"
Snow White
Tinkerbell from "Peter Pan"
Citations: This Woman Transforms Into 15 Disney Characters And Itu2019s Amazing (Buzzfeed)