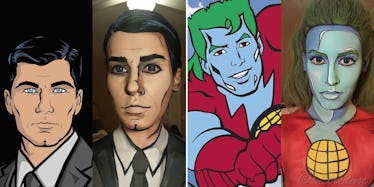 This Makeup Artist Transforms Normal People Into Epic Superheroes (Photos)
It's pretty incredible how much you can change your appearance with a little makeup.
One of the best things about makeup is it allows you to try out different looks, whether you're trying to achieve that sultry smoky eye, showing off the latest lipstick trend or simply transforming yourself into an epic, real-life version of your favorite superhero.
I don't know about you, but looking like a crime-fighting comic book character seems way cooler than spending an hour trying to make your winged eyeliner look even.
If there's one person who knows the power of makeup, it's Lianne Moseley. Recently, this Canadian makeup artist set out to bring her favorite comics to life by transforming ordinary people into a bunch of badass superheroes.
Moseley essentially pulls these characters from their comic book pages and injects them into the real world by using face paint to make her models look as if they were two-dimensional illustrations.
There's no denying Moseley's makeup transformations look spectacular. From Captain Planet and a female version of the Incredible Hulk, to Jean Grey and the Green Arrow, each model is turned into a stunning, action-packed work of pop art, all thanks to Moseley's unique techniques.
Moseley's superhero makeup would put even the most impressive cosplay costumes at Comic Con to shame.
Check out the picture below to see Moseley's incredible superhero makeup.
Moseley uses makeup to turn normal people...
...into stunning superheroes.
Captain Planet
Jean Grey
Green Arrow
The Incredible Hulk
Sterling Archer
Citations: Makeup Artist Transforms Ordinary People Into Comic Book Characters, Superheroes (Design Taxi)