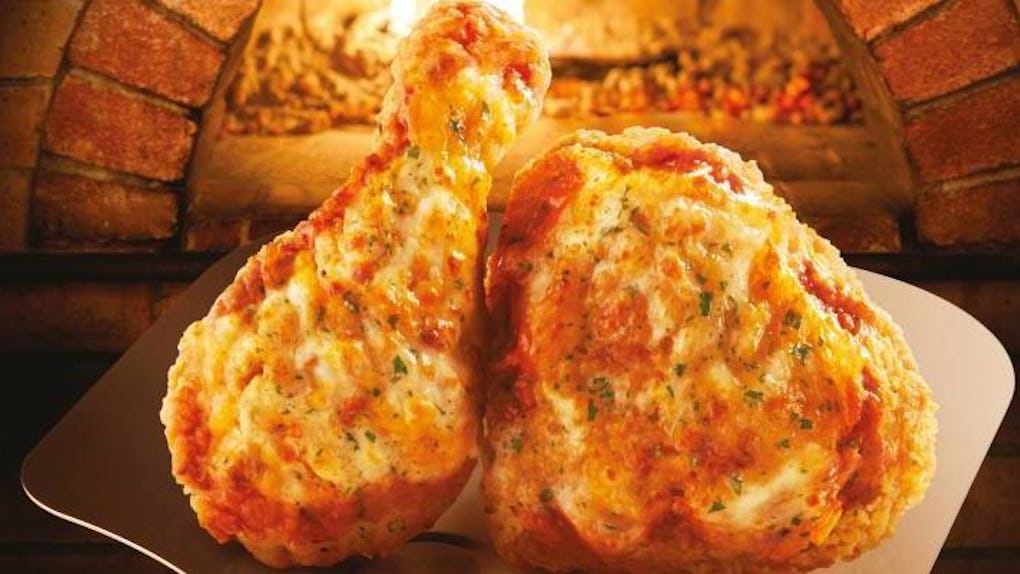 Twitter
KFC Just Combined Pizza With Chicken And It's F*cking Magnificent (Photos)
Choosing between pizza and chicken wings can sometimes be a pretty challenging task.
But thanks to KFC's newest food concoction, you'll never have to choose between your two favorite game day snacks ever again.
KFC brings all sorts of outrageous entrées to the table, and now, Napoli Crispy Pizza Chicken is joining the ranks of the Colonel's coveted Frankenfood creations.
The company recently unveiled its new item, and just as the name implies, it combines pizza and chicken wings into one seriously epic snack.
Right now, you can only get these bad boys in Hong Kong, but hopefully, these heavenly pizza wings will flap their way across the Pacific and start popping up in US restaurants.
Take a look at the pictures below to see these awesome new wings.
KFC just created the ultimate Frankenfood snack by combining your beloved pizza with its signature crispy chicken.
Another cross-category effort from KFC: "Napoli Crispy Pizza Chicken" in Hong Kong. Uhhh, no. pic.twitter.com/2Vmg9PCfW2 — BurgerBusiness (@BurgerBusiness) June 30, 2015
That's right. You can now eat pizza and wings with just one bite because Napoli Crispy Pizza Chicken is a real thing, and it looks delicious.
You can order these savory pizza wings solo or, if you're really looking to do some damage to your diet, you can order them in a bucket.
Unlike regular wings, these babies are loaded up with a mountain of mozzarella and cheddar cheese, and they're drizzled with marina sauce.
These things look even more irresistible up close.
Unfortunately, the prized pizza wings are only sold at KFC restaurants in Hong Kong.
But if you ask me, a plane ride across the ocean to get your hands on these wings seems totally worth it.
Check out the video below for a closer look at these insane wings.
KFC 拿坡里Pizza脆雞兩種口味一次過帶俾你!Pizza 同炸雞嘅口味就係KFC 全新拿坡里Pizza脆雞~咁易揀,仲洗咩煩呀! Posted by KFC on Wednesday, June 24, 2015
Citations: KFC Just Created A Pizza/Chicken Wing Hybrid (BuzzFeed)