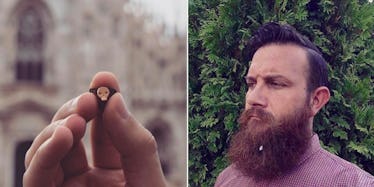 You Can Buy Jewelry Just For Your Beard, And Lumbersexuals Are Rejoicing
Thanks to the lumbersexual craze, beards are more popular than ever these days.
If you're looking for a way to make your big, bushy beard look even more badass, there are a lot of things you can do to make your scruff stand out from the hipster crowd.
You can brighten up your beard by rocking some floral facial hair that's fresh as hell, grab some sparkles and relive the glory of the glitter-beard craze or, you know, adorn your luscious facial locks with some studs that really make a statement.
That's right. Krato Milano just took beard fashion to a whole new level by creating an epic collection of accessories, specifically designed for the modern-day beardsman.
Behold, the almighty beard jewel.
Now, if you're wondering what beard jewelry is exactly, then let me fill you in.
These eye-catching accessories are just little studs that clip right on to your beard.
Apparently, it took Krato over a year to fine-tune the designs and create a stylish clip for the jewels that is functional, comfortable and works on all different types of facial 'dos.
The collection offers a variety of different pieces to fit every dude's personal style, and it includes everything from skull-shaped studs and mini-anchor beard jewels to the classic, round-cut, crystal beard embellishments.
According to the Kickstarter page, "This collection is dedicated to strong characters who express their individuality in eccentric, yet sophisticated ways."
"Beard is a visual display of dignity, style, and uniqueness which makes for a perfect canvas of self-expression."
If you're looking to make your beard look lit AF, you can pre-order some of these bad boys from Krato's Kickstarter page, until the campaign ends in November.
Check out the video for a closer look at these beard accessories.
Citations: First Ever Jewelry Collection For Bearded Men (Bored Panda)