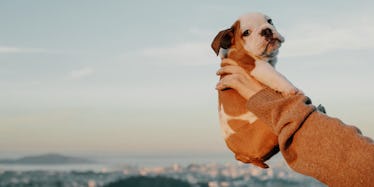 18 Instagrams Of Baby Animals That Are Actually Too Cute To Handle
If there's one thing we can all learn from the internet, it's that people really, really love looking at photos of cute animals.
Remember when we showed you that epic #CuteOff competition on Twitter?
You know, the one where scientists were trying to find the cutest creature in the animal kingdom?
Well, if those pictures made you feel all warm and fuzzy inside you'll be glad to know that photos of adorable animals aren't just limited to the Twittershpere.
Yep, there's also a pretty big population of Instagram accounts that are specifically dedicated a wide range of animal species that are downright delightful, to say the least.
From pudgy pink pigs and lovable little puppies to cute AF kitty cats and bashful little bunnies, there's an endless amount of charming creatures on Instagram that will give you all the feels.
So, we rounded up a bunch of adorable baby animals that are pretty much guaranteed to put a smile on your face and make you squeal with sheer enjoyment.
Check out the pictures below to see some Instagram photos that are too cute to handle.
If you're looking for a little something to brighten up your day...
...you came to the right place.
This happy hound is sure to sure to make you smile.
How could you not fall in love with this cone full of cuteness?
I mean, seriously, just look at this pussycat that wants you to walk the plank...
These lil' baby bat...
This golden retriever riding around on a Roomba...
This delightful dog dressed as a frog...
This precious pink micro pig...
...and this kitty, who's obviously the queen of all things cute.
Don't even get me started on this adorable dreaming duo...
This Frenchie that loves food just as much as the rest of us...
This sweet hamster in a tiny sweater...
This fluffy bear that has no shame doing a big ol' belly flop...
This joyful little joey...
This pup that clearly has no idea who pooped in your shoe...
...and this darling raccoon riding around on a damn bicycle.
Seriously, I'd be lion if I said this charming cub wasn't the cutest thing on Earth.