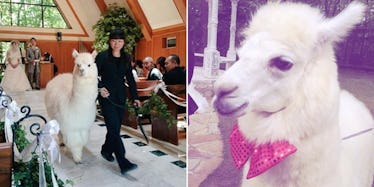 You Can Actually Rent An Alpaca For Your Wedding At This Hotel In Japan
It appears alpacas are now being used in weddings, but that isn't exactly shocking.
If anything, we should all be alarmed that people weren't incorporating alpacas into their wedding ceremonies before.
What took so long? I mean, we all, even alpacas, deserve to witness the love in the air.
According to Bored Panda, Hotel Epinard Nasu in Tochigi, Japan offers a wedding package featuring an actual alpaca as a witness of the ceremony.
I'm not surprised for a couple of reasons.
First off, it's Japan. Japan is known for doing all sorts of obscure things. You know, like the time we told you about the Japanese game show that requires male participants to attempt singing while being jacked off by consenting Asian women.
Japan is different. And funny. And awesome.
Secondly, weddings are pretty wacky life events themselves. Remember the creepy wedding set up like a funeral? Yeah, exactly.
And now, it's all about the alpacas.
Check out the photos below for a closer look!
The last animal you'd ever expect at your wedding is probably the only animal that would show up to your wedding... if it's in Japan.
It's an alpaca!
Hotel Epinard Nasu in Tochigi, Japan offers a wedding package featuring the attendance of an actual alpaca.
The hotel partnered with a nearby zoo to allow the alpacas to act as witnesses during wedding ceremonies.
They're also allowed to stay after the weddings to snap photos with guests.
So, what do you think? Will you be booking an alpaca for your wedding?!
Citations: This Wedding Hall In Japan Will Loan You An Alpaca To Act As The Witness At Your Wedding (Bored Panda)