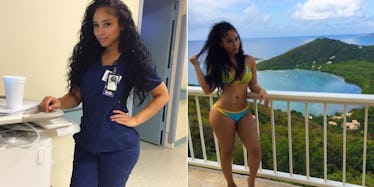 This Hot Instagram Model Has Been Dubbed The 'World's Sexiest Nurse' (Photos)
If it exists, it's probably on the Internet.
Whether you're in search of mouthwatering doughnuts filled with freshly churned gelato or you have your heart set on falling in love with beautiful nurses, it's all here. Especially the part about the beautiful nurses!
It seems the Internet is in a frenzy once again. This time, it's because of a breathtaking nurse found on Instagram. Now, this isn't just any nurse. This woman should probably be on a runway somewhere. I mean, what nurse do you know with over 100,000 followers on Instagram?!
Her name is Kai and, according to her Facebook, she's from New York City. When she isn't studying at New York University, she's in scrubs as a nurse -- the world's sexiest nurse, to be exact.
So if you've been looking for a good-looking nurse to call your new Instagram crush, you can thank the Internet for finding Kai!
Check out the photos below for a closer look.
Meet Kai, a New York-based nurse who quickly became Instagram's latest crush.
One look at her Instagram, and you'll see exactly why!
As a matter of fact, the Internet renamed her the "world's sexiest nurse."
When Kai isn't tending to patients, she studies at NYU, according to her Facebook.
And when she isn't doing that, she drops jaws one Instagram post at a time!
Each of Kai's posts typically racks up over 4,000 likes.
And remember, she's a nurse.
In addition to that, Kai managed to secure a loyal fan base with over 110,000 followers on the photo-sharing platform.
Whether she's saving lives, studying for class or working on her fitness, Kai is always busy working on her.
Perhaps her motivation is one of the most attractive things about her!
We'll let you be the judge!
Check out more of her photos on Instagram.
Citations: The Internet Is Going Crazy For The "World's Sexiest Nurse" (DudeComedy)