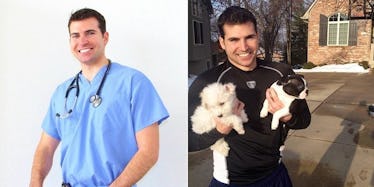 There Is Another Insanely Sexy Doctor Who Really Loves Dogs (Photos)
A few days ago we introduced you to heavenly Doctor Mike and his adorable dog.
If that dynamic duo got you all hot and bothered, you might want to brace yourself. The hospital is about to get a whole lot steamier.
It turns out Dr. Mike isn't the only good looking guy in scrubs who's giving everyone a serious case of the love bug.
Meet Dr. Brian Fiani.
Dr. Fiani is a neurosurgeon from Palm Springs, California, and it's not hard to see this man is incredibly f*cking #blessed.
We recently came across Dr. Fiani on social media, and his Instagram is filled with all sorts of eye candy uploads that will make you suddenly feel like you need to get your head checked by this handsome doc.
If his good looks, intelligence and charming smile aren't enough to make you lose your mind, you'll be glad to know Dr. Fiani is also a proud doggy DILF to a 15-year-old pup. Oh, and he loves Disneyland.
Seriously, what more could you ask for in a man?
Try not to drool on your keyboard as you check out the pictures below.
Say "hello" to Dr. Brian Fiani.
Dr. Fiani is a neurosurgeon who lives in sunny Palm Springs, California...
...and he might be one of the hottest things to ever happen to medicine.
It's not hard to see why the ladies love this sexy surgeon.
When Fiani isn't saving lives...
Or strolling around the hospital and looking all sexy in scrubs...
...you can usually find this handsome devil hanging out with his furry BFFs.
In fact, this hot dude is a serious dog lover...
...and he's constantly posing for pics with all sorts of adorable pups.
So many puppies, so little time.
Aside from being a dog DILF, Dr. Fiani is also a big fan of Disneyland...
Enjoys long walks on the beach...
...and prefers the finer things in life.
No matter what he's doing, Dr. Fiani will always be looking damn fine.
Seriously, doctor, you can operate on me any day.