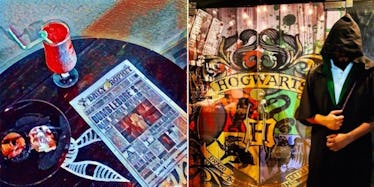 This 'Harry Potter' Cafe Is Brewing Up More Than Just Potions
InstagramInstagram
I've always been a huge "Harry Potter" fan.
In fact, I've spent most of my life convinced that I'm secretly a wizard and an owl is going to appear on my windowsill with a letter from Hogwarts any day now.
If you happen to share my muggle struggles, I have some good news for you.
Someone just opened a "Harry Potter"-themed cafe that serves as the perfect place to get your magical fix while you wait for that damn acceptance letter.
Located in Islamabad, Pakistan, The Hogwarts Cafe is conveniently nestled right alongside platform 9 3/4.
Inside, you'll find a wizardly world inspired by the Great Hall.
It's filled with all of the Hogwarts essentials like floating candles, witch hats, flying broomsticks and stacks of spell books.
If wielding your wand makes you work up a serious appetite, you'll be glad to know this charming cafe conjures up way more than just coffee.
Their magical menu includes all sorts of enchanting eats that range from dragon fire burgers to cauldron cakes. As an added plus, they have a variety of spellbinding sips, such as butterbeer and a Goblet of Fire.
This place is basically a dream come true for any wizard stuck inside of a muggle's body.
Check out the pictures below to see this awesome "Harry Potter"-themed cafe.
If you're looking to embrace your inner-wizard by immersing yourself in all things "Harry Potter"...
You can take a trip to the Hogwarts Castle at Universal Studios and wait in line for hours to score an overpriced butterbeer.
Or, if you're not down to deal with the muggle masses, you can hop on your broomstick and head over to the new Hogwarts Cafe in Pakistan.
Upon walking through the entrance, you'll find yourself standing in the middle of an enchanting eatery...
Complete with floating candles...
 Flying broomsticks and quotes from the book, of course!
If that's not cool enough, this place also has a menu filled with all sorts of Potter-approved provisions.
You can brush up on your spells...
Or read the Daily Prophet while you munch on magical cauldron cakes...
Hang out with your fellow Potter-obsessed witches...
Or scope out the Azkaban scene...
While you sip on all sorts of tasty potions.
Seriously, this place might just be the coolest thing to ever happen to coffee.
Now, if you'll excuse me, I have a flight to Pakistan to catch.
Citations: Experience A Unique Magical Dining Experience At This Harry Potter Themed Cafe (Design Taxi)