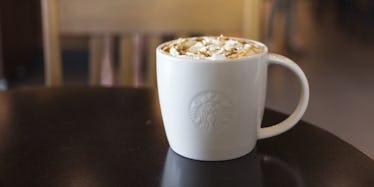 Starbucks Has A New Latte And It's Basically 'Harry Potter' Butterbeer
Getty Images
HEY, STARBUCKS JUNKIES! HEY, POTTERHEADS!
THE SEPARATE PATHS Y'ALL TAKE IN LIFE ARE ABOUT TO CONVERGE IN A SERIOUS WAY.
If you're a Potterhead who low-key loves pretending your boring-ass cream soda is a delicious mug of Butterbeer, Starbucks just introduced the beverage of your "Harry Potter" dreams, and you don't have to go to Hogsmeade to get it.
The Bux's new Smoked Butterscotch Latte combines espresso, steamed milk, smoked butterscotch sauce and a sprinkling of smoky butterscotch sugar.
YOU HEARD ME, CHO CHANG! SMOKED BUTTERSCOTCH!
It's sweet with an edge, just like the Wizarding World, where miracles abound, but death waits around every corner!
SO FUN! LOL, PERICULUM!
The SBL is available beginning today in the US and Canada -- but only for a limited time.
SOMEONE ACCIO ME THAT LATTE, ASAP!
There's no affiliation between the new Starbs treat and the "Harry Potter" universe, but that won't stop me from chugging one SBL after another...
... while pretending to cry-laugh at Madam Rosmerta's hilarious jokes.
See you all at the Three Broomsticks Inn! (I'm talking about Starbucks.)
Citations: Starbucks Has a New Latte That Sounds Just like Butterbeer (Teen Vogue)