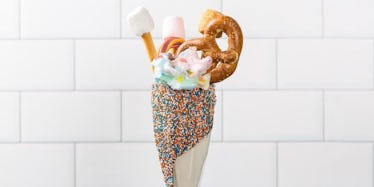 This Magical Unicorn Milkshake Is Everything You Want For National Ice Cream Day
Courtesy of New Territories
Alert! Alert! Today is National Ice Cream Day and your mandatory participation is required. Please make your way to the nearest spoon and bowl to begin scooping.
If you're more inclined to sip than scoop your frozen treat, you're in luck. Might we suggest the magical, mystical Unicorn State of Mind milkshake?
With a combination of marshmallows, licorice, cotton candy, and even a sourdough pretzel, this dessert is the epitome of celebration. Isn't that the cherry on top of a fantastic holiday? I'm ready to gobble it up with my morning coffee.
Thanks to New Territories — a New York City go-to that enhances Hong Kong sweets with a Big Apple flair — no one is left out of the ice cream celebration. Its colossal milkshake intends to combat #DairyEnvy thanks to Lactaid Milk and ice cream. These ingredients do include real dairy, but without the lactose.
If you were afraid you couldn't participate in the fun because of a dairy sensitivity, New Territories has your back.
By taking food's two favorite trends — unicorns and milkshakes — the restaurant aims to please everyone with a treat that's almost too gorgeous to eat... almost.
For all those not in New York, here is how you can make your own Unicorn State of Mind milkshake in the comfort of your own kitchen. Think of it as National Ice Cream Day's answer to Thanksgiving turkey.
People are totally appreciating the dessert's inclusivity and took to Twitter to express their gratitude.
Since ice cream is our favorite beat, let us enlighten you about ways to kick off today's holiday: You can score free treats, so make sure to figure out where to go if you want a complimentary cone. For those feeling adventurous, there's even the option to add a little booze to your ice cream, making National Ice Cream Day even more delightful.
BRB, attempting my own Unicorn State of Mind shake. Happy eating, everyone!