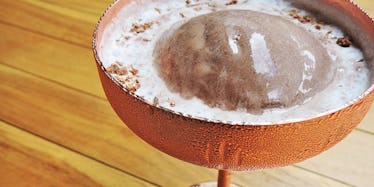 5 Boozy Ice Cream Cocktails That You Need To Try On National Ice Cream Day
Courtesy of Hilton West Palm Beach
Did you know that Sunday, July 16 is National Ice Cream Day? Well, neither did I -- but now that I have the inside scoop, I can't stop thinking about my favorite frozen dessert.
Out of the popular ice cream trends taking over your timeline, there are a few that stand out above the rest for me. Some of them include ice cream with creative cones, rolled ice cream, and of course, ice cream with alcohol in it.
In fact, alcoholic ice cream is the new rage -- and its popularity makes total sense. I mean, ice cream is a delicious treat to enjoy during a hot summer day, and so are refreshing boozy beverages.
It was only a matter of time before the two were combined, and I think I speak for all frosé lovers out there when I say, thank you!
To celebrate National Ice Cream Day with a boozy twist, check out the list of delicious ice cream-infused cocktails you just need to try.
Frozen Bellini
The Frozen Bellini is made using Belvedere vodka, peach nectar, house-made vanilla ice cream, and fresh peaches. Oh yeah, it's also topped with prosecco and strawberries. Yum.
You can score your very own Frozen Bellini at the WET deck at the W Hotel in South Beach, Miami.
Irish Cookie
The Irish Cookie is made using two scoops of vanilla ice cream, Irish cream, and Oreo cookies. Is this real life?
If you find yourself in Aruba, you can find the Irish Cookie at the Hilton Aruba Caribbean Resort & Casino.
The Single Scoop Sip
The Single Scoop Sip is made with a single scoop of freshly churned ice cream, dark rum, Kahlua, and Irish Cream. It's served in a frosted martini glass.
Find this treat at the Hilton West Palm Beach in West Palm Beach, Florida.
Grand Coral Strawberry Boozy Milkshake
This drink is considered "more than a milkshake," and that description hits the nail right on the head. The Grand Coral Strawberry Boozy Milkshake is made with Ricardo's locally distilled pineapple rum, Smirnoff vodka, vanilla ice cream, fresh berries, and local pineapples -- all blended together and topped with chocolate chip cookies.
Find this milkshake at the Grand Hyatt Baha Mar in Nassau, Bahamas.
Champagne Ice Cream Sundae
The Champagne Ice Cream Sundae is made with either champagne or sparkling white wine, granulated sugar, kosher salt, and cornstarch. These ingredients are cooked and served on top off the sundae that has white chocolate crumbles and a chunky tart rhubarb sauce. Oh! We can't forget the three scoops of ice cream and vanilla whipped cream on top.
You can find the Champagne Ice Cream Sundae at Melt Ice Cream in Fort Worth, Texas.
I suddenly have the urge to travel. Treat yourself to one (or two... or three) of these treats on National Ice Cream Day this weekend!