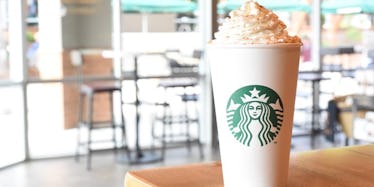 Starbucks' PSL Return Will Be Live Streamed On Facebook, Here's Where To Watch
Starbucks
Now that it's officially September, we have this amazingness to look forward to: The original Starbucks Pumpkin Spice Latte is on its way! Though the beloved coffee chain is still keeping its official release date under wraps, the PSL himself has been teasing fans on Twitter, posting a few cryptic messages urging fans to tune into Starbucks' Facebook page on Friday, Sept. 1. Well, here we are. And we have some idea of what the company has up its autumnal sleeve: Starbucks' PSL release date will be live streamed on Facebook!
Before we start refreshing Starbucks' Facebook every five seconds, let's take a look at what the real Pumpkin Spice Latte (@TheRealPSL) has been tweeting throughout the week.
On Monday, Aug. 28, everyone's favorite #basic fall drink tweeted a conflicted, all-caps message to his fans. He wrote,
I CAN'T TELL YOU YES I CAN NO I CAN'T STARBUCKS FACEBOOK SEPTEMBER 1ST THAT'S ALL I CAN SAY AH!!!
Then, on Wednesday, Aug. 30, he tweeted once again, urging fans to "get excited," writing,
STARBUCKS FACEBOOK. SEPTEMBER 1ST. I'M EXCITED POPCORN'S EXCITED GET EXCITED!!!
Starbucks even retweeted the message, proving that something big is coming.
S0, what do we do now?
Well, my fellow PSL obsessed people, we wait and we watch for a live stream to start on Starbucks' Facebook at 12 p.m. ET, that's what. It's unclear what exactly the team at Starbucks has planned, but knowing just how cool the PSL is (I mean, have you seen his orange sunglasses-clad Twitter photo?), I'm willing to bet it'll be awesome.
In the meantime, at least we have plenty of PSL-inspired products to enjoy — from Atlantic Fizz's Pumpkin Spice bath bombs to Native's all-natural deodorant and Pumpkin Spice Latte candles — while we wait for an official release date from the coffee giant.
Fingers crossed this season's first sip will be sooner rather than later!