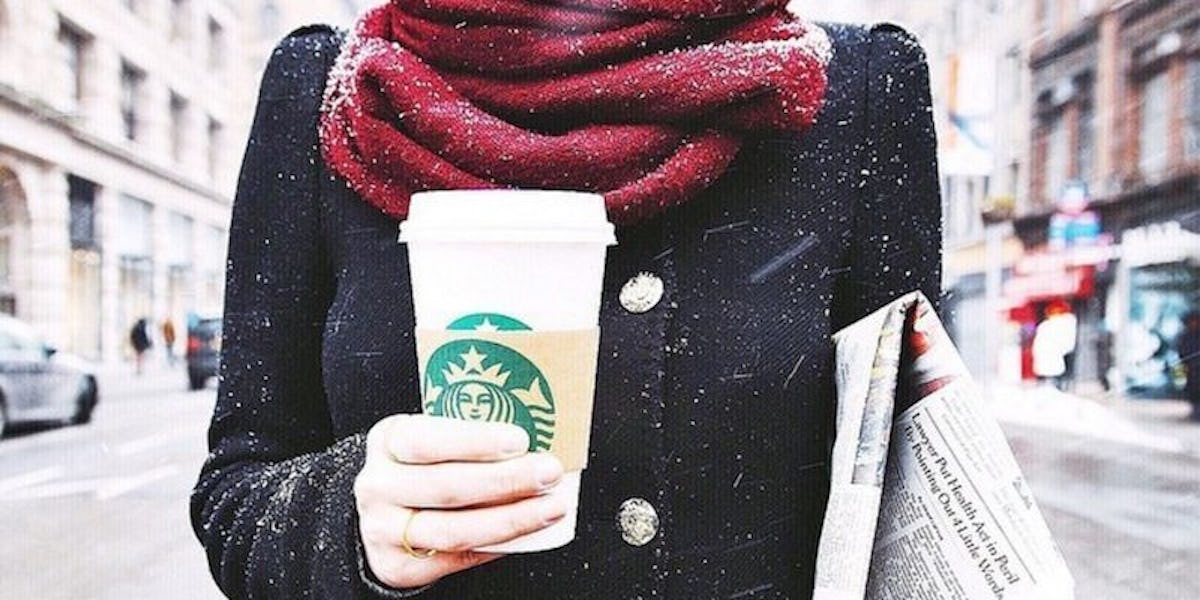 Starbucks' New Holiday Drink Completely Ruins Your Beloved Winter Traditions
Winter is well on its way, so you know what that means.
It's the glorious time of year when Starbucks finally brings back its almighty holiday menu.
In no time at all, we'll be swapping out our beloved PSLs for a variety of cozy, seasonal sips that basically taste like Christmas in a cup.
This year, Starbucks is adding yet another drink to its growing collection of winter beverages.
However, your new Starbucks holiday drink is a bit, well, surprising, to say the least.
Feast your eyes on the Spiced Sweet Cream Nariño 70 Cold Brew.
That's right. Starbucks decided to put a cool spin on its holiday traditions by debuting a cold drink for winter.
If you're wondering what this new ice coffee entails, let me fill you in on the deets.
This chilly concoction features Starbucks Nariño 70 Cold Brew coffee.
It's spiced with a myriad of festive flavors such as cinnamon, anise, nutmeg and vanilla, and then topped off with a float of Starbucks' house-made sweet cream.
Yoke Wong, a member of Starbucks beverage development team, said,
Although we've offered iced and blended versions of our holiday espresso beverages before, this is our first time creating a cold coffee holiday beverage. The spices complement the cold brew and bring out the cocoa notes in the coffee. It's a flavor reminiscent of the holiday season.
Now I know what you're probably thinking, and yes, ice coffee isn't really the first thing you crave when you're freezing your ass off in the dead of winter.
But hey, that doesn't necessarily mean you have to automatically give this new holiday drink the cold shoulder.
While it may not be the warm, cozy drink you envisioned, this tasty flavor still sounds relatively Christmas-y.
Maybe you just need to sit next to a sweltering fireplace or wear a lot of sweaters while you drink it.
Starbucks Rewards members will be able to get their hands on a Spiced Sweet Cream Nariño 70 Cold Brew starting today. The rest of us will have to wait until later this month to snag one of these bad boys.
If you're not a fan of committing some cold on cold coffee crime, don't worry.
Starbucks will still have all of your favorite hot beverages like Caramel Brulée Lattes, Gingerbread Lattes, Chestnut Praline Lattes, Eggnog Lattes and my personal fave, Peppermint Mocha, on its winter menu.
Citations: The New Starbucks Holiday Drink Is Not What You Expected (Cosmopolitan)