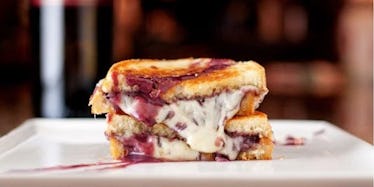 Red Wine Grilled Cheese Exists, So You Can Now Experience The Taste Of Pure Joy
BS' In The Kitchen
If there's one thing we can all safely agree on, it's wine and cheese is the best pairing of all time. It's like the Tina Fey and Amy Poehler of food and drink, or the snack equivalent of rainy days and Netflix.
And now, there's a way to take your wine and cheese game to a whole new level.
Yeah, that's right: two of your favorite things melted together in a warm, buttery concoction. It's the food equivalent of a night in with your best friend.
Plus, you get to kill two birds -- drinking and drunk eating -- with one stone.
So, how do you make this dream pregame into a reality?
Weirdly, it's a little harder than just pouring a glass of wine all over your grilled cheese.
The recipe comes from Bob, the food blogger behind BS' In The Kitchen. It should take about 25 minutes to prepare.
Here's what you'll need:
Get two slices of french bread, a tablespoon of butter, half a chopped red onion, one clove of minced garlic, a dash of rosemary, a dash of thyme and a tablespoon of flour.
And then, you'll need the main ingredients. Start with 3/4 of a cup of red wine. Bob recommends you use Cabernet Sauvignon. But hey, go crazy if you're a Merlot girl.
Then, you'll need 1/2 a cup of shredded Gruyere cheese. Again, that's just a suggestion: If you're craving some mozz, don't us stop you.
According to BS' In The Kitchen,
In a pan on medium heat, melt butter. Add onion, mixing into butter. Once the onions begin to soften, add garlic, thyme and rosemary. Saute for a couple of minutes. Sprinkle about a tbsp of flour, mixing in. Once mixed in, add wine. Reduce until alcohol has burned off and the reduction is thick enough to coat a spoon. Taste reduction to ensure alcohol has burned off. Spread reduction on each slice of bread. Add Gruyere. Butter the outside of each slice. Grill in a pan on medium heat until golden brown on each side.
Yum.
Citations: BS' In The Kitchen, Metro