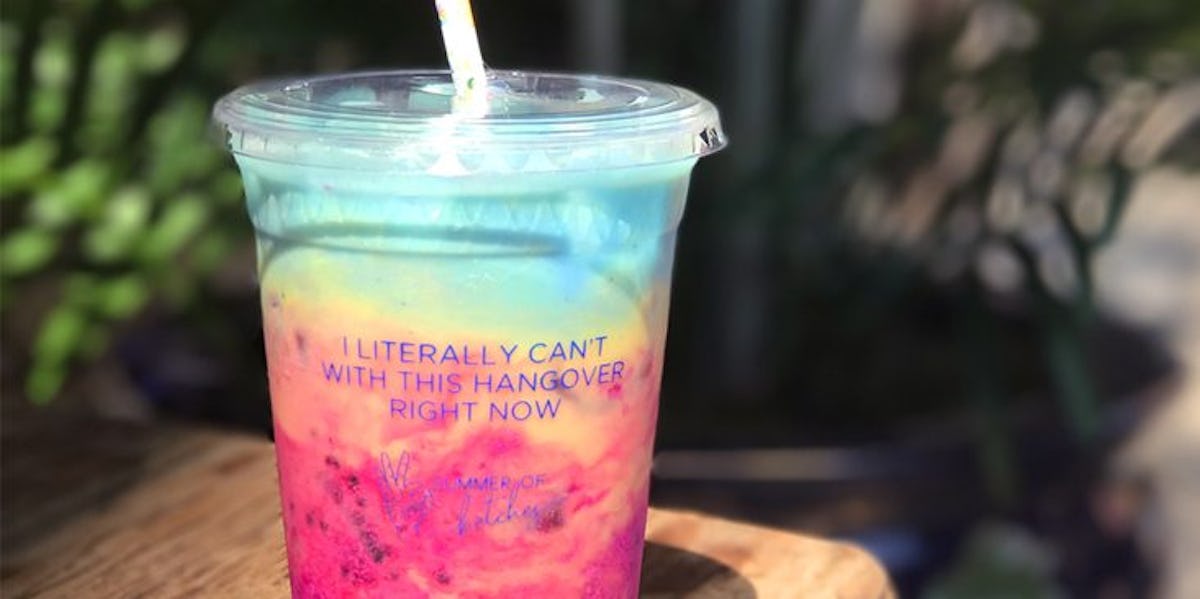 This Rainbow Hangover Iced Latte Is Good For Your Health And Gorgeous AF
Betches
It wouldn't be summer without weekend pool parties and boozy tropical cocktails.
However, if the party vibes lead to one too many alcoholic bevs, the folks behind Betches are here to rescue you from that dreaded hangover with a limited edition iced drink, aptly called the Hangover Iced Latte.
The beautiful bev — which is exclusively available at The Good Sort, a vegan latte bar in Chinatown, NYC — gives Starbucks' Unicorn Frappuccino a run for its money, and guess what? It's actually good for you.
Let me warn coffee addicts in advance: While Betches' "latte" is made with nutrient-dense, healthy ingredients, it does not contain any coffee. So you'll want to order your caffeine fix separately.
Anyway, with each sip of the vitamin-packed rainbow drink, you can expect to feel your hangover melt away thanks to powerful ingredients such as blue algae, turmeric, dragon fruit, and go-to dairy alternatives almond milk and coconut milk.
Here's a breakdown of what each of 'em do.
Flavor-wise, dragon fruit is summer in a cup. Plus, according to the above infographic, it'll "make you age slower than J Lo." (Sign me up.)
I've personally never tried blue algae, but it sounds like something worth drinking to banish an uncomfortable post-party feeling. Same for turmeric, which does wonders for puffy, dehydrated skin!
If vegan lattes aren't your thing, there are other ways to soak up the Betches vibes this summer.
The social media brand responsible for some of the most hilarious memes on the internet is hosting #summerofbetches throughout the month of July in NYC and the Hamptons.
From workouts to blowouts and shopping deals, there are plenty of Insta-worthy ways to get involved. Hashtag a photo with #summerofbetches and you'll even be entered to win a trip to Tulum, Mexico.
Cheers to a hangover-free summer, betch!