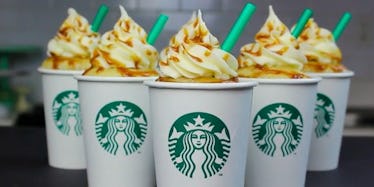 Pumpkin Spice Latte Cupcakes Exist And They're Honestly The Next Best Thing
Cosmopolitan
With fall almost here, everyone is experiencing Pumpkin Spice Latte (PSL) fever. Folks can't wait to get their hands on the PSL at Starbucks, but any fan of the coffee giant knows, the limited-edition fall drink is still not on menus. So what do you do if you need to feed your need for a PSL, you figure out how to make Pumpkin Spice latte cupcakes at home, duh!
The delicious cupcakes are surprisingly easy to make and by the looks of it, are pretty darn delicious, too. You're going to need a muffin tin, pumpkin pie mix, and vanilla cake mix to get things started. When prepping, make sure to line your tin with cupcake liners and fill each halfway with pumpkin pie filling and the rest of the way with vanilla cake mix.
Then, lightly swirl the two fillings together and bake for 17 minutes at 350 degrees. Ice them to your liking and top it off with a caramel swirl and pumpkin pie spice. Delicious! (I mean, did you have any doubts about that?) For more details on this recipe, head over to ChelSweets.com, who was the inspiration behind this deliciously good Pumpkin Spice latte cupcakes recipe. After having one of these cupcakes, you might never want to have a regular PSL ever again. I, for one, don't blame you.
And the best part is, you can make them right at home.
If you feel like these delicious cupcakes won't fill your PSL void, then you can always drive to your local grocery store and pick up the ready-to-drink PSL drink that you can enjoy over ice or even blend into a DIY frappuccino. If you're eager to get your PSL from an actual Starbucks location, it might be here sooner than we expected, because the syrup used to make the infamous PSL has already arrived at many locations.
The news came after a Starbucks employee shared photos of the gallon of PSL syrup on a Reddit group. All I'm saying is, Starbucks needs to stop playing with my emotions and just release the PSL already.